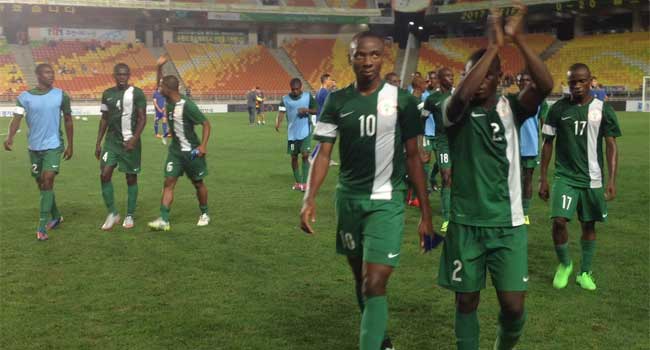 Golden Eaglets coach, Emmanuel Amuneke, has said that his team are title contenders at the ongoing FIFA u-17 World Cup.
This came as the Eaglets cruised to the quarter finals of the competition following the victory against Australia in Vina Del Mar on Thursday morning in the round of 16.
A hat-trick from Victor Osimhen and other goals from the trio of Kelechi Nwakali, Edidiong Essien and Samuel Chukwueze ensured that Nigeria maintained her long time dominance over the Aussies who were initially seen as a tricky side.
However, Coach Amuneke said that the philosophy of his team was to play collectively, though he admitted that Victor Osimhen, who scored a hat-trick had a great game.
The Eaglets, who had scored 14 goals, have become the first team to score six goals in a FIFA U-17 World Cup knock out phase as they attempt to win the trophy for the fifth time.
The Nigerian team are due to face the Brazilian side in the quarter finals on Sunday, November 1.