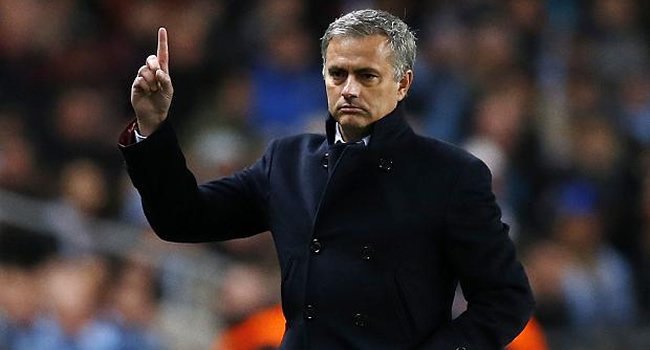 Jose Mourinho believes the competitive nature of this season's Premier League means that if his side can put together a sequence of victories they still have a chance of finishing in the top four.
The manager was speaking to media at Cobham ahead of Monday's trip to league leaders Leicester City, and this view is a sharp contrast to his earlier concession of the top four finish after the team's 1-0 loss to AFC Bournemouth at Stamford Bridge on Saturday.
Mourinho said that there were no fresh injury concerns for Monday's fixture against Leicester City, managed by Claudio Ranieri, the man he replaced when he first arrived at Stamford Bridge in 2004.
Earlier in the week Ranieri said he thinks the Blues are still more than capable of securing a top-four finish, and Mourinho agrees.
"First of all, it's nice from him," the Portuguese said. "Nobody has any doubt that he hasn't forgotten his time at Chelsea. Everyone who is at this club for a certain period of time likes the club very much and Ranieri is showing the nice feeling he has, but I also believe what he says.
"Before we lost three points against Bournemouth I was absolutely convinced about finishing fourth in the table and I was convinced about a great December for us.
"The reality is that some clubs are doing well and some others are not capable of doing what they are used to. It's not easy for the top clubs to win three, four, five or 10 matches in a row now, so who knows?
"If we can get a run of four or five consecutive victories, because none of the other clubs are doing that, maybe we have a chance to make up the distance and dream of finishing fourth. While mathematically it's possible we have to try."
He also praised the Foxes for their performances up until the moment.
"They deserve to be where they are, let's be honest,' said the Blues boss. "I said a couple of weeks ago I didn't believe they can be champions and maybe I have to think twice because it's one thing to be top in September after a beautiful start, another is to be top in December, that's a completely different story, so if they are there and get result after result, it's because they can win the title.
"It would be something magnificent, something to impress the football world but sometimes these things can happen, so why not?
"They are there because they are doing magnificently well, we are where we are because we are doing badly. We have the same potential as last season, the same manager, same players, so if we are where we are it's because we are underperforming.
"He (Ranieri) is going to win the manager of the month award and he should win more than that, he should win manager of half-term. If you could give an award for the first six months of the competition everybody is miles away from him and every club is miles away from what Leicester are doing. I know the distance between them and Man United, Man City, Arsenal is only a few points but they are the ones who deserve all the respect and compliments.
"One year ago they were bottom of the league and Ranieri was sacked by the Greece national team for losing to the Faroe Islands, now he is the top manager in the Premier League and their players are top of the league. That's the beauty, it's fantastic."