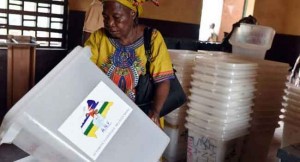 Voters in the Central African Republic (CAR) are going to the polls to elect their next President and lawmakers who are expected to restore a stable government after years of violence.
Thirty presidential candidates are vying to replace interim leader, Catherine Samba-Panza.
United Nations (UN) peacekeepers hope to stop a repeat of the violence during a referendum on a new constitution.
The CAR has been torn by sectarian violence since the Muslim Seleka alliance seized power in March 2013.
A band of mostly Christian militias, called the anti-Balaka, then took up arms against the Seleka.