Conflicting Death Toll Trails Dalori Attack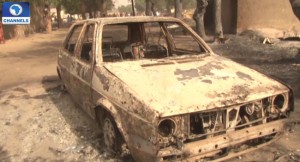 The National Emergency Management Agency has put the death toll in the attacks on Dalori village in Borno State at 65 which is less than the earlier figure of 85.
In a statement on Monday by the spokesman for the agency, Sani Datti, NEMA said 65 persons lost their lives and 136 persons injured in the weekend attacks.
Earlier report on Sunday say 85 persons were killed while 62 others sustained injuries and are receiving treatment at the General Hospital in Maiduguri the capital  of the state.
Most of those affected were fleeing women and children who ran into suicide bombers in a nearby village, an official of the National Emergency Management Agency said.
Dalori, which is less than 10km from Maiduguri, came under attacks on Saturday evening, with the agency's Emergency Response Team immediately mobilised for rescue along with the Police Anti bomb Squad, NSCDC, Nigerian Army, Federal Road Safety Corps and Nigerian Red Cross.
Victims were evacuated to Umaru Shehu Hospital, University of Maiduguri Teaching Hospital and Borno General Hospital for medical attention and 40 persons were confirmed dead.
According to NEMA, the community buried 25 deaths beside those that were taken to the hospitals.
Explaining the incident, the agency said that the suspected insurgents came into the village and started shooting sporadically.
"This put the villagers and the neighbourhood into pandemonium, with residents running helter-skelter.
"Some of the villagers that succeeded in moving out, including those in the nearby IDPs camp (Dalori Camp II), gathered under a big three where people normally gather in the evening to do menial trading activities.
"Unknown to them, one of the suicide bombers sneaked into their midst and detonated explosive devices killing scores of people and injuring many," NEMA further explained.