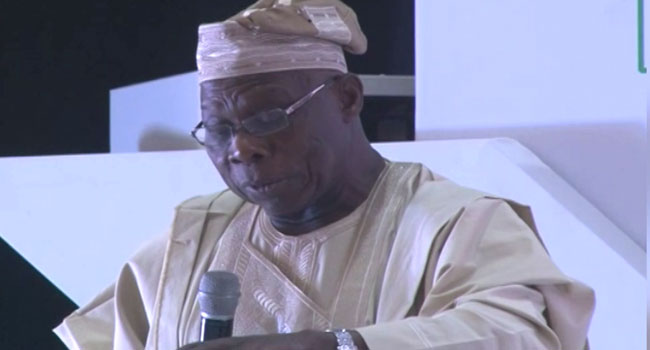 A former President of Nigeria, Olusegun Obasanjo and a former Commonwealth Secretary General, Emeka Anyaoku, have advised the government to give more attention to tackling the economic challenges facing the nation.
Giving his opinion on the state of the nation, the former President was of the view that urgent measures should be taken to fix the current fiscal crisis.
He warned that it may spell doom for the country if not addressed.
"If the current fiscal challenge is not creatively addressed, Nigeria may be on its way to another issue of debt overran. It may not be good for the country.
"The hope that followed the initiative of the new Partnership for Africa's Development and are being threatened by development in the global economy and governance.
"Falling commodity prices have put pressures on local currencies and requires that caution should be taken," Obasanjo stressed.
The former Secretary General of the Commonwealth is, however, confident that a truly restructured constitution aimed at pursuing a non-oil based economy was what may be needed to avoid the predicted economic and political disaster for Nigeria.
"There are many aspects of the present state of the Nigerian project that require fixing," he stressed.
Mr Anyaoku listed the aspects that should be addressed to include the structure of governance system, the pervasive corruption, which he said sometimes involved mind-boggling figures that undermines national efforts and the conduct of Nigerian politicians – the executive and the legislators of the Federal and State governments.
He also urged the government to look into the management of the national resources, particularly their allocation to recurrent and capital development expenditures.
The statesmen made their views known on Monday at the maiden edition of a summit organised by the Ibadan School of Government and Public Policy at the University of Ibadan.
A guest speaker at the event and a Professor of International History and Politics, Richard Joseph, said Nigeria had no business being poor.
"It is very important to be able to draw on the very rich work that we have in Nigeria. In so many years you can identify an area of human endeavour which Nigerians have had super performance," he told the gathering.
The two-day summit attracted a crowd of intellectuals, with a theme, 'Getting Government To Work'.