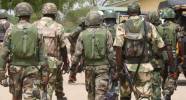 The military says Nigerian and Cameroonian forces have killed suspected Boko Haram terrorists and freed several hostages during a raid to combat the insurgency in several West African nations.
According to a statement issued by the acting Director, Army Public Relations, Colonel Sani Usman, the troops killed 10 Boko Haram terrorists and also rescued 45 persons in an operation against the insurgents in villages.
The statement added that the troops safely diffused five improvised explosives in the border towns, while four soldiers in a separate operation were injured when they stepped on buried explosives.
According to L'Oeil du Sahel Newspaper, the leader of an elite unit of Cameroonian soldiers, Captain Yari Emmanuel of the Rapid Intervention Battalion, was killed on Thursday last week during a joint operation with Nigerian Forces that led to the killing of at least 27 militants.