Cross River Super Highway Project To Create More Jobs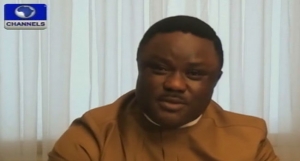 As the grading of the 260 km Super Highway in Cross River State nears completion, the Governor is hopeful that the project will create jobs for the unemployed youths across the state.
Governor Benedict Ayade is also optimistic that the highway would open more access routes to rural communities across the state.
The project is being carried out by Liebherr Limited, an earth moving and mining equipment company with branches in Germany and Nigeria.
Leading a three-man team from Germany on an inspection of the various grading sites from Bakassi to Obudu as well as work on the deep sea port, Sales Manager of the company, Rolf Bachmann, said he was particularly impressed with the progress of the grading work, which he said was near 90 per cent completion.
Addressing reporters at one of the Super Highway sites in Ikom Local Government Area of the state, Bechmann disclosed that, with the level of work done at the site, the next target was to arrange special machines to embark on the next phase of the project.
He said, special equipment for bridge and road constructions would be brought in by his firm in two months' time for the continuation of the job.
In another site, construction work on the ultramodern quality control laboratory for the superhighway and other projects embarked upon by the state government have also commenced.
The facility, when completed, would be used for soil texture as well as testing the viability of asphalt, oil and diesel needed for the superhighway.
Some youths are also hopeful that the project when completed would bring more development to their communities.
Upon completion, the multi-billion Maura project will aggressively open up many rural communities, spring up small businesses as well as create many business opportunities for youths in the state.