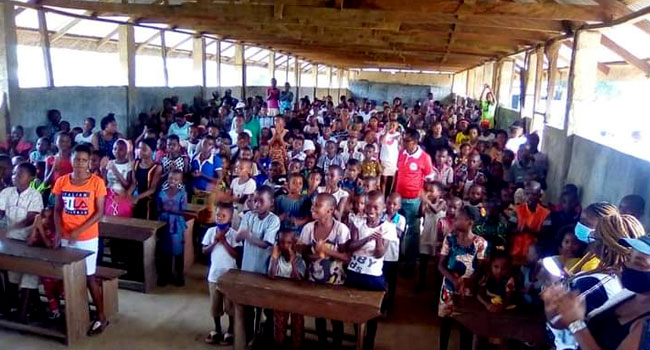 Nigeria Association of Women Journalists (NAWOJ) in Cross Rivers State and a Non-Governmental Organisation (NGO) – the Queen Priest Foundation have distributed food items, clothes, and toiletries to less-privileged children and widows in the state.
They made the donation on Valentine's Day to some Internally Displaced Persons (IDPs) of Bakassi camped at Ikot Eyo in Akpabuyo Council of the state.
NAWOJ Chairman in the state, Umo Bassey-Edet, said the donation was important to help cushion the effect of the COVID-19 pandemic and also give them a sense of belonging.
"There is a need to extend this love to those who really need it, the kids on the streets, widows dying of starvation, the girls down the street without clothes to wear.
"As humans, we have a mandate and responsibility to God and man and that responsibility is to spread love to ensure that the next person beside you is happy," she said.
She added that the exercise will be done on a regular basis.
"We will be going to different communities as possible. I call on stakeholders, everyone privileged to see it as a responsibility that we owe the society," she added.
Founder of Queen Priest Foundation also known as Love A Child Foundation, Apostle Stella Achibong in her speech said that there is a need for other foundations to take their activities back to the village where it is needed more and not just in the cities.
"I'm here to celebrate love with the children. A lot of them have been rejected and forgotten and I feel so good, fulfilled, and happy that I could put smiles on their faces.
"I decided to come to where the displaced people of Bakassi have their remnants, that is why we chose Ikot-Eyo because some of them don't have houses to stay," she said.