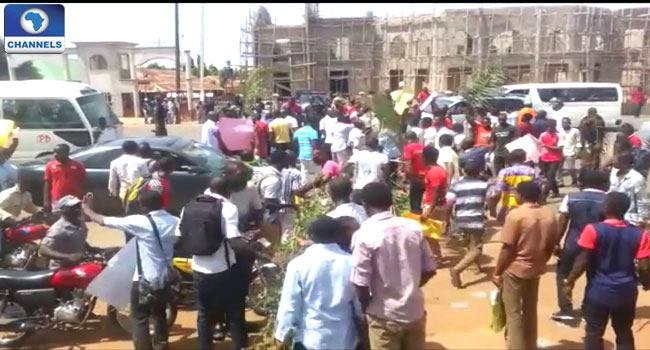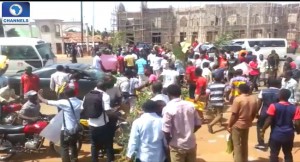 Protesting students of Benue State University in Makurdi, have shutdown the university campus and the Makurdi-Gboko federal highway over a 100% school fee increment for new entrants.
The President of the Student Union Government, Mr Ojime Martins, told Channels Television that the increment from 62,000 Naira to over 130,000 Naira for law students was outrageous.
The students are demanding for a reversal to the old school fees.
The protest began from shutting down the school gate, but later spilled into the highway where vehicles were denied access for about 30 minutes before officials of the Nigerian Police Force stepped in to clear the protesting students from the highway in peaceful dialogue.
After hours of protest by the students and a siege on the university gate,  the university management arrived at the scene on the other side of the gate far away from the protesting students for dialogue.
The Deputy Vice Chancellor in charge of administration, Professor Julius Ashikor, pleaded with the students to have a talk with the schools management, but some of the students refused the university'd offer, siting instances of sell out by their leaders.
He expressed hopes that an agreement would be reached at the meeting.
While the police have been able to clear the federal highway for free flow of traffic, the siege on the school's gate had continued.