New Edo House Of Assembly Speaker Sworn-In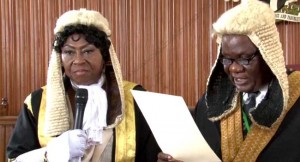 The lawmaker representing Uhunmwode constituency, Mrs Elizabeth Ativie, has been sworn in as the first female Speaker of the Edo State House of Assembly.
Elizabeth Ativie emerged speaker following the rowdy session in the Edo State House of Assembly last week that saw the impeachment of Victor Edoror as Speaker of the house.
The new Speaker pledged to maintain an open door policy and provide leadership that will move the state forward.
The former Speaker of the House, Victor Edoror and his Deputy were accused of incompetence and high-handedness.
He had said after his impeachment that the House members had met without his consent, insisting he was the only one that has the power to convene the plenary.
"I was not there when they started. Can you start a sitting without me.
"They never put an allegation before me. I have not heard from them and I think they are frivolous allegations if they are so started," he said.
However, in a chat with newsmen at Monday's plenary where the new Speaker was sworn in, Mr Edoror said, "I am here principally to represent my people, Esan Central.
"It is the decision of the honourable members for me to lead them in this house (and) now that they have decided that I should not, I am back to my seat.
"Will I now say because I'm no longer Speaker, therefore I should not come and represent my people? That will be a sacrilege beyond human imagination. I have a mandate that I must protect and I will continue to protect it.
"As far as I am concerned I am very pleased with the members of the Edo State House of Assembly."