Edo State Assembly: Edoror Declares Support For New Speaker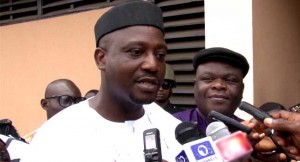 Former Speaker of the Edo State House of Assembly, Victor Edoror, has promised to support the new leadership of the House.
Honourable Edoror, who is representing Esan Central constituency in the House, disclosed this in a brief chat with journalists on Monday in Benin City, the state's capital.
He expressed his desire to join hands with the new leadership in working for the overall interest of the people of Edo State.
The former Speaker, who is now the Chairman of the House Committee on Agriculture, also thanked his colleagues for giving him the opportunity to serve in that capacity for one year.
"It is the decision of the honourable members for me to lead them in this house (and) now that they have decided that I should not, I am back to my seat.
"Will I now say because I'm no longer Speaker, therefore I should not come and represent my people? That will be a sacrilege beyond human imagination. I have a mandate that I must protect and I will continue to protect it," he said.
This came after the Edo State House of Assembly was torn apart on Tuesday, when 16 lawmakers impeached the Speaker of the House and the deputy.
Honourable Edoror and his Deputy were accused of incompetence and high-handedness.
The former Speaker said at the time that the House members had met without his consent, insisting that he was the only one that has the power to convene the plenary.
The lawmaker representing Uhunmwode constituency, Mrs Elizabeth Ativie, who was elected Tuesday as replacement, has been sworn in on Monday as the first female Speaker of the Edo State House of Assembly.