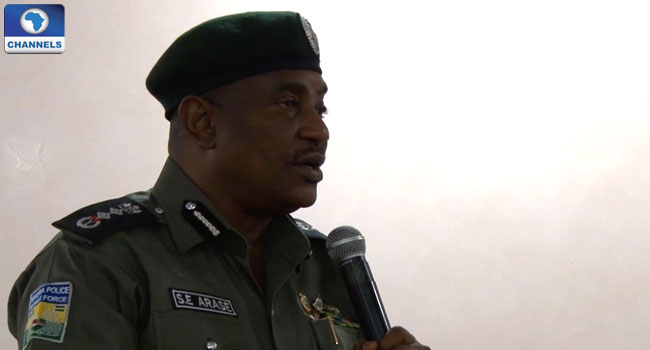 The Nigeria Police Force is pushing a strategic initiative that will leverage on community policing practices to address internal security challenges.
To pursue the initiative and ensure it was successful, the Inspector-General of Police, IGP Solomon Arase, has directed all State Commands' Commissioners of Police (CPs) and the Federal Capital Territory to, as a matter of urgency, convene town hall meeting in their respective state commands.
The instruction came on Monday in a statement signed by the spokesman for the police, Mr Olabisi Kolawole, at the Police Headquarters in Abuja.
Mr Arase reiterated that the move was to address specifically the misinformation, anxiety and animosity being generated in relation to the current security challenges associated with local communities and herdsmen.
He directed that the proposed meetings should be held at state and area commands, as well as at divisional levels, to enhance the process of re-assurance policing and the need for peaceful coexistence and sensitivity of each community's value, space and interest.
The forum, which would be utilised as a veritable platform for dialogue between all parties within the community, would have participants drawn from all strategic security stakeholders.
The stakeholders, according to the Police boss, include traditional rulers, community leaders, public officials, religious actors, youths bodies, local vigilante groups, women/market associations, Police Community Relations Committee, other sister security agencies, professional bodies, media, state and non-state actors, among others.
The IGP also ordered all Assistant Inspectors-General of Police in charge of Zonal Commands (AIGs) to personally oversee the process and ensure urgent compliance, as it affects commands under their area of responsibility.
He urged the citizen to put their differences aside and courageously continue to support the Police in the face of current security challenges confronting Nigeria.
IGP Arase reassured the public of the Nigeria Police Force's commitment to the safety and security of all Nigerians anywhere in any part of the country.