Insecurity: Abdulsalami Abubakar Calls For Dialogue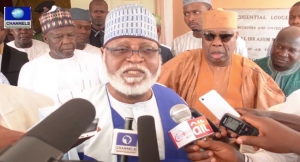 Nigeria's former Head of State, General Abdulsalami Abubakar (Rtd), believes that lasting peace can return to the country with dialogue between government and various insurgency groups including the Niger Delta Avengers militant group.
Abubakar stated this on Tuesday when he received members of the Niger State House of Assembly who visited his residence to wish him a happy birthday.
He lamented that Nigerians were suffering unduly because of the actions of various insurgents including the Boko Haram, Avengers and Biafra agitators.
"All we need to do is to sit down in a round table and discuss this problem. Even if you fight a war and win you must come and sit down with the people you conquered.
"What is Boko Haram?  Nobody knows what they want. The Avengers are now out, what are they avenging?", he asked.
He stated the need for the Avengers to understand that they are destroying their own land while oil production had dropped to lowest level in decades.
He cautioned that the constant blow up of oil pipelines by the Niger Delta Avengers would ultimately affect the 13% derivation to the region due to a sharp decline in oil revenue.
In addition, Gen. Abubakar said that the activities of the militants could also lead to a drop in the funding of the Niger Delta Development Commission (NDDC) while much harm is done to land and aquatic lives of the region.
"I hope that they will come back to their senses and let us try to give this country peace. We do not deserve what we are going through.
"We need peace and I am begging everybody in the spirit of Ramadan, whatever religion everybody is following. Please let us give peace a chance", he pleaded.
In his remark the Speaker of the Niger State House of Assembly, Ahmed Marafa, expressed gratitude to God for using the former head of state to restore democracy to the country.
He described General Abubakar as an illustrious son of the state whose counsel has guided the Assembly in its efforts to deliver good governance in the interest of the people.