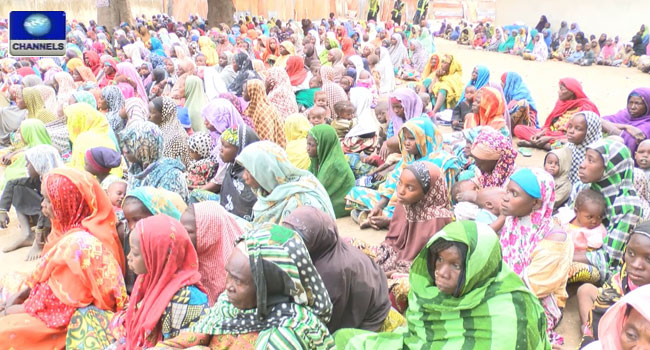 Internally Displaced Persons (IDPs) living in makeshift camps in Bama Local Government have taken delivery of food and none food items from various humanitarians.
The Chairman of the Borno State Emergency Maintenance Agency (SEMA), Ahmed Sotomi, disclosed this to reporters on Thursday in Borno State, northeast Nigeria.
He lamented that at least 28,000 IDPs living in makeshift camps across liberated towns in the state have been dealing with hunger and ill health besides their homelessness.
Mr Sotomi noted that this was regardless of the relief items being donated by individuals, humanitarian organisations as well as government's effort.
He added that 1,200 malnourished children and sick adults from the area had already been moved to the capital city of Maiduguri for proper diet and medication.
Commending the gesture, the Borno State Governor, Kashim Shettima, said that with 156 trailers load of assorted commodities, the Dangote Foundation had so far made the highest donation to the state.
One of the IDPs in Bama, Bunu Tela, urged the government to improve the feeding situation in the camps with consideration for special needs of inmates.
"What we want right now is food. The food they give us is not enough and there is no condiments.
"We just eat boiled rice with salt and seasoning sometimes, (but) we need more food. We need the government to help us to provide condiments for our meals," Tela said.
Some of the beneficiaries of the items distributed in were orphaned children who have been forced by circumstances of the Boko Haram insurgency to head their families.
Officials say there are other 21,000 IDPs in Banki town, few kilometers away from Bama.