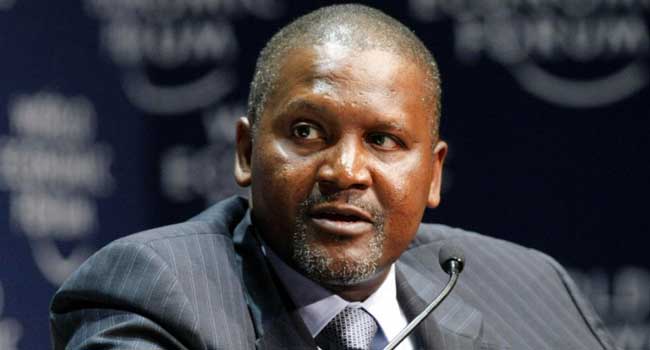 Africa's richest man, Aliko Dangote, plans to launch Nigeria's first private crude oil refinery by 2019 while almost doubling his cement production on the continent by adding plants in eight countries as he shrugs off a regional economic downturn.
Dangote told Reuters the $12 billion refinery would have a capacity of 650,000 barrels a day, cornering the market in Africa's most populous country, where fuel shortages are a perennial problem.
Until recently, Nigeria was Africa's biggest crude oil producer but it imports 80% of its fuel because poor maintenance means its four refineries never reach full output.
Its current daily consumption is 260,000 barrels, according to the International Energy Agency.
A slump in commodity prices has hammered Nigeria's economy – along with many others on the continent – and raised the cost of borrowing but Dangote, whose business empire stretches from cement to flour and pasta, is pushing hard into oil and gas.
"It will be ready in the first quarter of 2019," the billionaire founder of Dangote Cement said of the refinery. "Mechanical completion will be end of 2018 but we will start producing in 2019."
Dangote said the plant, which will include a $2 billion fertilizer unit, was being funded through "loans, export credit agencies and our own equity".
Some $3.25 billion had come from local and foreign banks, while the central bank had also chipped in. The IFC, the private sector arm of the World Bank, has lent $150 million.
Dangote also has plans for a gas pipeline through West Africa. Nigeria has the world's ninth largest proven gas reserves, at 187 trillion cubic feet (tcf), but loses half of it to flaring and re-injection.
Despite the new focus on oil and gas, the business magnate said he planned to build cement plants in Cameroon, Ethiopia, Kenya, Mali, Niger, Nigeria, Senegal and Zambia by 2018. Another plant will open in Congo Republic by September, he added.
A cement plant in Ivory Coast would triple output to 3 million tonnes, up from an initial target of 1 million, he said, while two new plants in Nigeria would add 6 million tonnes annually.
"As at now, what we have in operation is almost about 45 million tonnes, so we have just another 40 million tonnes to go," he said, affirming an Africa-wide production target of 85 million tonnes a year by 2018.