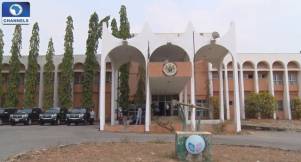 Warring factions in the Kogi State House of Assembly reconciled on Friday to ensure lasting peace among them and end four months of disagreement.
The House has been in the lingering crisis that erupted early in February this year which resulted to two factions – the Momoh Jimoh and the Imam.
Trouble started after some members of the house impeached Mr Jimoh in February, resulting to G5 and G10 factions.
The reconciliation meeting was not an easy one, but it was achieved after the State Governor, Mr Yahaya Bello, set up an 11-man reconciliation committee headed by Mr John Oladele.
Both factions were called on Thursday into a roundtable discussion that lasted for over two hours held to broker peace between them at the Government House, Lokoja, the capital of the State.
But they, however, could not resolved their differences.
The Kogi House of Assembly members also reconvened on Friday for the reconciliation meeting which was held in closed-door.
The meeting ended after about four hours of deliberations.
Addressing reporters shortly after the reconciliation meeting, Governor Bello stated that as the leader of them all it was his duty to reconcile them.
Also speaking on behalf of the G5, which later became G10, Honourable Friday Sanni said all suspension on the former G15 members remained null and void, as they were now united.
Another House member, Honourable Kolawole, spoke on behalf of the G15 lawmakers on the successes of the reconciliation meeting.
He said they had finally found a lasting solution to the crisis, noting that all the court cases against the other faction would be withdrawn.
The members said when the Assembly reconvened they would sit down and jointly elect a leader who would pilot the House of Assembly.