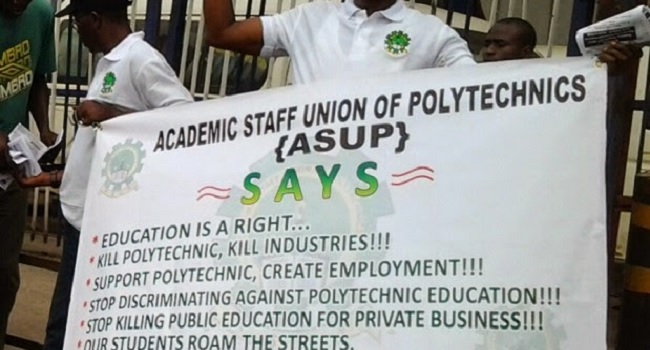 The Academic Staff Union of Polytechnics (ASUP) has threatened to embark on another round of industrial action should the federal government continue to ignore the agreement it reached with the union since 2012.
Speaking with journalists in Kaduna during a capacity building workshop for members of the union, ASUP President, Usman Dutse, lamented that several agreements the union and the federal government signed in 2012 were yet to be implemented.
He listed the agreements to include, non-implementation of CONTISS, poor state of polytechnics, under-funding of the sector, dichotomy between HND and bachelors' degree holders and non-implementation of NEEDS assessment report on polytechnics, among others.
He noted that having given the present administration more than one year to settle down and address their demands, it seemed that the government is not serious in addressing the matter.
On his part, the Rector of Kaduna Polytechnic, Dr. Mohammed Ibrahim, appealed to the union to review its demands in the light of the current economic situation.
He also called for more funding of the polytechnic sector which he said is key to the technical and vocational advancement of the country.
The workshop themed "Administering Trade Unions in a Receding Economy" is aimed at sensitizing officials of ASUP across the country on how to pilot the affairs of the union on the various institutions with regards to the dwindling fortunes of the national economy and how they can collaborate with government to address some of the challenges in the sector.
Notwithstanding the situation, the polytechnic lecturers noted that a situation whereby many state-owned institutions owe their workers over seven months' salaries and other allowances would no longer be acceptable.
The Minister of Labour and Productivity who was represented by a Director in the Ministry, Mohammed Yusuf, told the lecturers that the idea of shutting down campuses to press home their demands does not go well for the education sector.
Rather, he called for an effective synergy between the union and chief executives of institutions to address their demands.
Although the polytechnic lecturers say they are aware of the fact that the present government came to power about one year ago, but then they are of the believe that government is a continuum.
The issues between government and ASUP have lingered for years.