Flood Kills Seven-Year-Old In Nasarawa State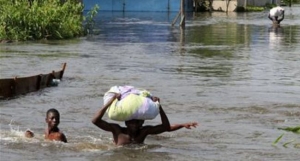 Some residents of Kuruduma community in Karu Local Government Area of Nasarawa State, North Central Nigeria are counting their losses after flood ravaged their area.
One person has been confirmed dead and several others wounded in the floodwaters that swept through the settlement.
The dead seven-year-old boy, along with his other siblings, were said to have sought refuge in the ceiling of an apartment while the flood lasted but was found dead thereafter.
In the absence of the deceased father, Moses Felix, the landlord of the house, Gabriel Oche, narrated what happened, as he took Channels Television crew to the room where the incident occurred.
The deluge also swept away many houses and property.
A Computer Science student at the Federal Polytechnic Nasarawa, Oluchi Emmanuel, spoke about how she tried to recover her personal computer and what was left of her personal belongings as a result of the flood.
Another resident of the community said that the only option for them was to wade through the muddy water, as not even the bridge built through communal effort was spared.
While a teenager, Nana Ahmed, narrated how she managed to escape death during the disaster, the traditional ruler of the community, Mr Ahmad Bako, said they are in dire need of assistance from the state and local authorities.
The Chairman, Interim Committee of Karu Local Government, Yin Allah Vundabo Iya, visited the community to assess the extent of damage.
He assured the flood victims that steps were being taken to alleviate their sufferings.