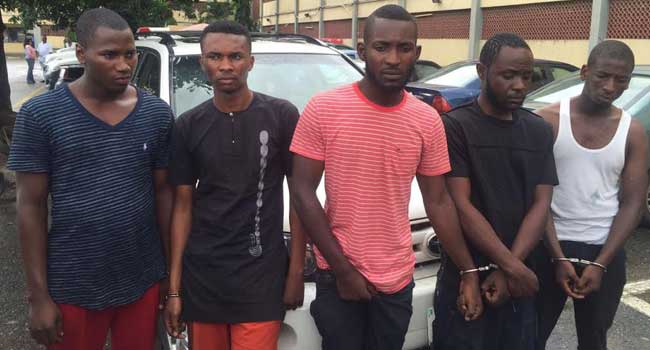 The Lagos State Police Command on Thursday paraded five suspects arrested in connection with the robbery of one Wilson Obande Onazi who is the  father of Super Eagles player, Ogenyi Onazi, on Monday, September 12, 2016.
They were arrested at Shobiri Hotel, Ajangbadi area of the state at about 7pm on Wednesday Sept. 14, while they were trying to dispose of the Toyota Highlander SUV with Reg. No. GMU 300 AA which they snatched from the victim.
The Commissioner of Police, CP Fatai Owoseni, while parading the suspects, said that the Nigeria Police Force under the Inspector General of Police, IGP I.K. Idris is well more positioned and poised to ensure that criminal elements, no matter where they commit crimes are pursued and apprehended.
He said that the suspects would be transferred to Plateau State for further investigation and prosecution.
The suspects arrested are:
(1) Ali Adamu aged 20 years of No. 11 perverge Street, Gboko, Benue State
(2) Ogechukwu Ebuka aged 20 years of No. 2 Kampala Rukuba Road, Jos, Plateau State
(3) Joseph Ozoenieke aged 20 years of no fixed address
(4) Kingsley David aged 20 years of No. 16 Polo Field opposite, NEPA, Jos, Plateau State and
(5). Osita Ezeama aged 23 years of no fixed address.