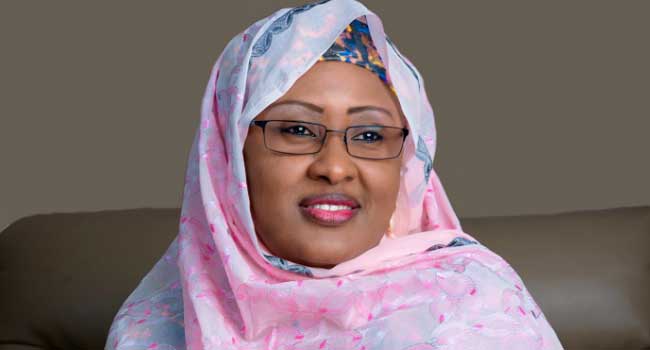 The wife of Nigeria's President, Aisha Buhari, has warned her husband that she will not back him at the next election unless he considers rejigging the make-up of his appointees.
Mrs Buhari who is alleging that the Presidency has been hijacked, said a "few people" were behind presidential appointments.
According to her, people who did not share the vision of the ruling All Progressives Congress (APC), were now appointed to top posts because of the influence of certain people.
In a BBC interview, Mrs Buhari said the President "does not know" most of the top officials he has appointed.
She revealed that "the President does not know 45 out of 50 of the people he appointed and I don't know them either, despite being his wife of 27 years."
Mrs Buhari said her husband had not told her whether he would contest the 2019 election.
However, "I have decided as his wife, that if things continue like this up to 2019, I will not go out and campaign again and ask any woman to vote like I did before.
"I will never do it again," she added.
President Muhammadu Buhari, has since dismissed Aisha Buhari's comments on the formation of his government.
Speaking to journalists in Germany, he laughed off the comments, and said: "I don't know which party my wife belongs to, but she belongs to my kitchen and my living room, and the other room."
President Buhari is currently on a second working visit to Germany since assuming office. He will during his meeting with German Chancellor Angela Merkel discuss issues of shared interests between Nigeria and Germany.