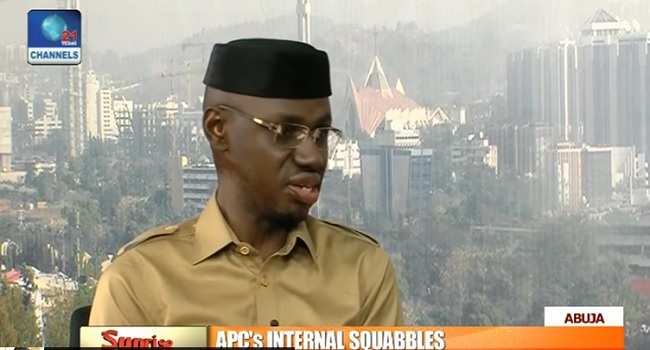 The Deputy National Publicity Secretary, of the All Progressives Congress (APC), Timi Frank, says the party is not speaking in one voice due to lack of unity and internal crisis.
He clearly stated that the party was not supporting President Muhammadu Buhari's fight against corruption, as much as it should, due to an "incompetent leadership" that can stand and support the President's idea on corruption.
"As at today, I can clearly tell you that because of the internal wrangling, the party is not doing enough.
"It is a very big problem. Until we put our acts together or have a competent national chairman that can put everybody together, then I can tell you as a party we should be able to support the president on the fight against corruption.
"As at today I can tell you clearly the party is not doing anything."
Speaking as a guest on Channels Television's Sunrise Daily, Mr. Frank insisted that the party was in crisis.
Factions in APC
Mr Frank declined giving details in clear basics about the factions but stated that there are aggrieved members in the party whose actions were affecting the unity and growth of the party.
He emphasised that the party was in crisis and had refused to let Nigerians know the situation of the party.
"Part of the issues affecting the party is the vacant positions in the seat of deputies. There are lots of acting deputies which have not been given a functional position."
When asked who controls the APC? He said the "national chairman was not in control but being controlled by certain forces".
"We cannot have a national chairman that is controlled by the people, rather a chairman that will bring the people together"
He urged the APC to work together in unity to ensure that President Buhari's fight against corruption could be successful.