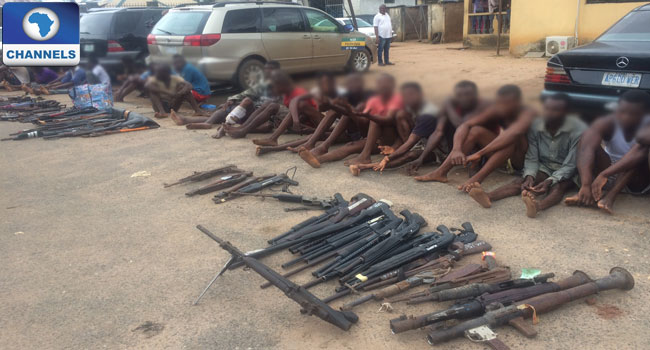 The Ogun State Police Command has paraded 23 suspected criminals thought to be disturbing the peace of communities across the state for various crimes ranging from murder to armed robbery and kidnapping.
Weapons like pump action guns, single barrel guns, 'cut to size' and other exhibits were recovered from the suspects.
One of the suspects, a 23-year-old young man from Ibadan in Oyo state confessed to have joined a gang of armed robbers in the last three years, while another in possession of four guns said that the guns belonged to his late father who was a pipeline security man.
"I was arrested by the Police because I gave a gun to somebody to sell. The guns belong to my late father who was a pipeline security.
"I found the guns where it was buried when we wanted to re-roof our house and I called one of my father's boys who used to service the guns. He was the one who advised that we should sell it," he said.
Addressing journalists, the state Commissioner of Police said that the arrests were a result of proactive measures being put in place by the command, especially in the ember months, saying that community policing remains the answer to security challenges.
"I want to put it on record that the combat against crime in Ogun state is yielding positive results and the results is what we are exhibiting today. This is what we will be doing to ensure a safer ember month, the successes are as a result of cooperation from residents," he said.
The CP also solicited the cooperation of residents in the task of providing effective policing of the state.
He said that the suspects would be arraigned before courts of competent jurisdiction to determine their culpability or otherwise so that the innocent among them would not be punished unjustly.