Court Grants Fani-Kayode Bail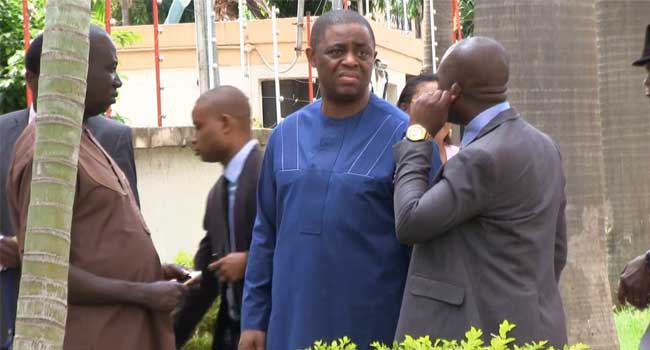 A Federal High Court in Abuja has granted bail to former Aviation Minister, Femi Fani-Kayode, in the sum of 50 million naira and one surety in like sum.
The court says that the surety must be resident in Abuja and own a landed property in the capital city.
The former minister is to submit his passport and other travel documents to the court.
The presiding judge, Justice John Tsoho, has directed that Mr. Fani-Kayode be remanded in Kuje Prison until he meets the conditions of his bail application.
Mr. Fani-Kayode was arrested on Friday, October 21 by operatives of the anti-graft agency, as he left the Federal High Court premises in Lagos.
His arrest is connected to the recent 17-count charge of money laundering to the tune of N4.9 billion filed by the EFCC in Abuja against him.
He has been arraigned on fresh charges bordering on corruption, criminal breach of trust and diversion of funds by the Economic and Financial Crimes Commission (EFCC).
Fani-Kayode, who was also spokesman for the Goodluck Jonathan Presidential Campaign, has pleaded not guilty to the five-count charge.
The former Aviation Minister has described his arrests as efforts to silence him.
Speaking to newsmen while being taken away by operatives of the EFCC as he left the Federal High Court premises in Lagos on Friday, he said: "They will not take my life, I am not scared, I'm not intimidated (and) I will not be silenced.
"I am very proud of the fact that the Nigerian people are beginning to understand what is going on in this country.
"They can re-arrest me a thousand times, torture me, lock me up, beat me, deprive me of food and my phones; they can do anything to me, I will never change."