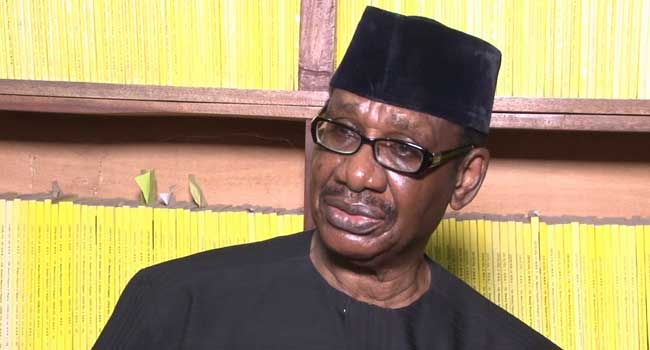 The Chairman of the Presidential Advisory Committee, Prof Itse Sagay has described as diversionary, malicious and vindictive, the call for the Minister of Transport, to step down from office.
In an interview with select journalists on Thursday in Lagos, Prof Sagay made it clear that he was speaking in his personal capacity.
He insisted that the outburst of Justice Okoro and Ngwuta (two justices of the Supreme Court) is "surprising considering that it is totally unrelated to the raids of their premises, their arrests and subsequent charges before the courts".
The Professor also said that "men of that status should not indulge in such diversionary activities in the midst of grave and ominous charges against them. I would have thought that they would use the time at their disposal to prepare their defenses against the serious charges they are facing.
"In any case, given their statuses as Supreme Court Justices even in the middle of the adversity confronting them, they should not have engaged in a distraction totally incompatible with the dignity and respect that their offices attract.
"It is demeaning for them to abandon their legitimate defence in order to smear a high official of the Buhari Government, which latter they probably consider to be the source of their predicaments.
"Mere allegations cannot have enough weight to affect the position of such a high official as Amaechi, otherwise knowing the disposition of Nigerians for putting people down, no office holder will be safe in this country. It is therefore improper and ridiculous to compare the position of the justices in whose houses millions of naira and hundreds of thousands of dollars were recovered, to that of Amaechi against whom there is only the mere ipse dixit of the judges.
"This sudden anti-Amaechi narrative is consistent with the objectives and interests of the chief promoters and funders of judicial corruption during election petitions. These powerful opposition are well known.
"To be more specific, they are from Rivers and Akwa Ibom states. They are the one who financed judicial corruption and brought that great institution, the judiciary to its knees, after the 2015 elections.
"These allegations are intended to undermine and weaken the Buhari Federal Government, by depriving it of the service, input, ideas and productivity of some of its brightest stars.
"This is intended to set the stage for charging the government with ineffectiveness and cluelessness. In other words, it is an attempt to reduce the image and perception of this Federal Government to the low level of their own fate and unlamented government.
"Therefore, the call for Amaechi to step down is malicious and vindictive. It should be ignored with complete ignominy".