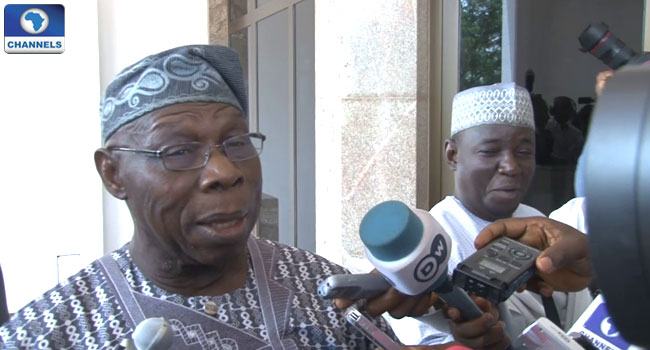 A former President of Nigeria, Mr Olusegun Obasanjo, has asked Nigerian youths to do the right thing at the right time, if they wanted to be good leaders in future.
He gave the admonition on Wednesday at the Olusegun Obasanjo Presidential Library (OOPL), Abeokuta, at a youth empowerment programme organised by one of the arms of the library, the Centre for Human Security.
The event was organised in conjunction with UNESCO Institute for African Culture and International Understanding and Chartered Institute of Stockbrokers, Nigeria, and it attracted 400 pupils from 16 secondary schools across the South West, such as Lagos, Oyo, Ogun, and Osun among others.
It has the theme "Empowering the youth for a sustainable future".
Respect Constituted Authority And Law 
The former President, who spoke to the pupils on 'The Obasanjo 20 golden rules for young leaders in the 21st Century', was represented at the occasion by a former Executive Secretary of the Nigerian Universities Commission, Professor Peter Okebukola.
He enumerated further that for the pupils to become good leaders, they must have respect for constituted authority and rule of law.
Professor Okebukola said: "Other golden rules that will help you to be good leaders are: Always set good examples for others. Be a good team player, accept your mistakes and learn from it. Have respect for time and treat everybody with respect, especially the elders.
"You must embrace philosophy of life and core values that are of high standards, which borders on honesty, loyalty, hard work and obedience. You must be bold, courageous, and firm.
"You must think Nigeria and work for Nigeria's unity, development and progress, and say 'we' instead of 'I'. Show care for public property. Always remember to say thank you and please and have the fear of God and be prayerful".
He later spoke to the pupils on the topic: 'From Millennium Development Goals to Sustainable Development Goals', telling them that Nigeria performed woefully on the MDGs.
Professor Okebukola further urged the youth to contribute their own quota in achieving the SDGs, which would lapse in 2030.
While he noted that the workshop was aimed at raising crop of young people that would be responsive to the actualisation of the 17 SDGs, which he pointed out involved living a life that would be beneficial for the generations yet unborn.
The workshop also witnessed sessions on financial education, dangers of drugs abuse and abstinence from youth related health risks.