Fire Wreaks Havoc In Yobe Market
Property worth millions of naira is said to have been destroyed by fire at the popular Makera market in Nguru town of Yobe State, northeast Nigeria.
The market associations and witnesses said the cause of the inferno was not yet established.
The Chairman of Nguru Market Association, Mr Hassan Ali, told Channels Television crew that they woke up to see the devastation as the incident occurred on Sunday night.
"The cause of the inferno can only be revealed by the Almighty as all of us closed our shops peacefully and went home that fateful day, only to see this devastation the next day.
"The good thing is that no life was lost. With God and determination as well as support of government and spirited groups or individuals, we can still succeed," he said.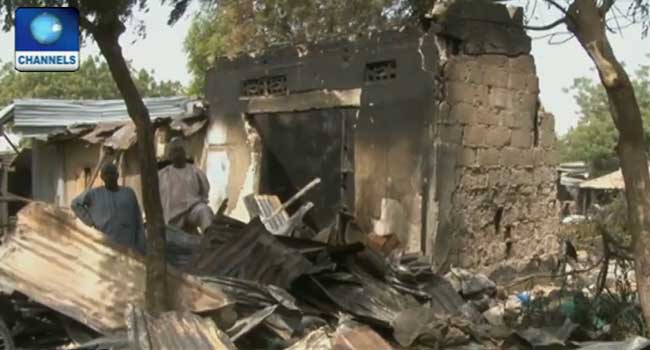 Mr Ali appreciated the visit by the National Emergency Management Agency (NEMA) and other spirited individuals, saying it has further given them a sense of belonging.
After adequate briefing by the traders and independent assessment, the representative of NEMA in Yobe State, Mr Nafuta Mahmoud, said the message would be communicated to the head office for prompt intervention.
He disclosed that 177 shops were affected while food and cloths materials worth millions of naira were destroyed.
Mr Mahmoud also took time off to educate the people on how best to handle fire disaster in a windy and Sahel environment such as Yobe State, particularly during the harmattan season across Nigeria's northern region.