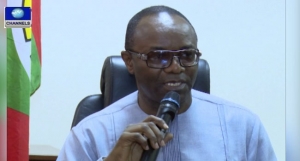 The Minister of State for Petroleum, Dr Ibe Kachikwu has urged Nigerians to face the challenges posed by recession and make the best of it in 2017, observing that the recession has brought out the ingenuity in Nigerians to look within.
According to the Minister who spoke at a musical event which took place at his residence at Onicha-Ugbo, Aniocha North Local Government Area of Delta State as part of celebration for the yuletide, "we must make sense out of our situation".
"Everywhere I go, opportunities abound, the difficulties of today, should challenge us for a better tomorrow," he said, observing that God has endowed Nigeria with a lot of gifts that should be tapped to make the country greater in 2017.
He emphasised, "God gave us energy to energise the environment; He gave us a beautiful environment and gave us food in abundance if we can use our hands to work on the soil."
Dr Kachikwu contined, "As much as we may hate what is happening in the country, let the pains of today not frustrate you; let the challenges of today make you better for tomorrow because, in one year's time, it will go well. We will create a Nigeria we all will be proud of."
Delta State Governor, Ifeanyi Okowa, was among dignitaries that graced the 'Night of Soulful Music' organised by the Minister of State for Petroleum, Dr Ibe Kachikwu.
In a brief sermon at the event which was spiced up by renowned gospel musicians, Rev. Fr. Peter Mobuogwu of the Catholic Diocese of Issele-Uku disclosed that Christmas is about celebrating the love of God.
He sued for peace among Nigerians, asserting, "what we desire now is the peace that comes with Christmas, we are celebrating the great love of God and there is hope that life will continue after now because, God stooped down to take the form of man for our sake".