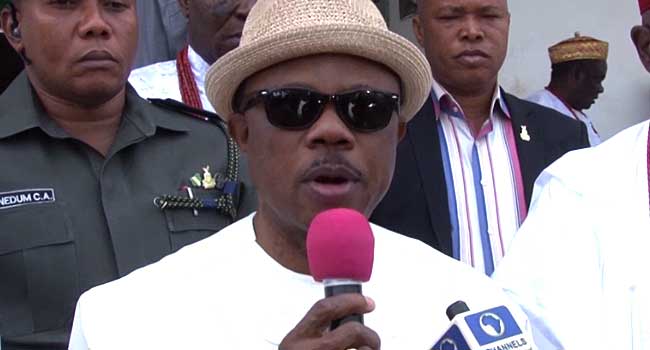 Teachers across Anambra state have been assured of a better welfare in terms of promotion and training as well as better remuneration packages, especially for teachers in the hard-to-reach areas in the state.
The assurances came from the Anambra State governor, Willie Obiano, as he commissioned the Teachers' Utility Hall at the premises of the Anambra State Universal Basic Education Board Building, Awka insisting that it was the resolve of his administration to ensure that the state remained first in education in the country.
The Chairman of the Anambra State Universal Basic Education Board, Mr. Nzemeka Olisa, revealed that teachers before now held conferences, seminars and training under canopies which was unacceptable, with the support from the government, the board was able to erect the edifice.
"This is in line with your Excellencies Police of doing more with little. From what we are witnessing today, you will agree with me that there is a great benefit and joy in applying this policy in the administration of public office.
With strict supervision and monitoring, prudent and judicious spending, we are proud to have this magnificent building to show for it. I am happy to announce that the purpose for which it was conceived and put in place is being met almost on daily basis."
According to the Commissioner for Education, Professor Kate Omenugha, the goal of the state in education was to ensure that the learning needs of all are met and the sector was striving towards its realisation which the state government was giving a strong support to.
"We want to ensure that the learning needs of all are met through equitable distribution of resources and learning of lifelong skills and ensuring that we are one of the three top states with lowest illiteracy rate."
The governor encouraged the teachers to continue to be the best as he remained committed to their welfare revealing that the 2017 budget had their promotion factored into it.
"In the 2017 budget, I factored in promotion. All these are to motivate you because of the good work you are doing. Our children are doing well today because we have committed people working there and you can only be committed if you receive your entitlements as and when it is due and that's why I'm doing what I'm doing.
"I want us to continue to be the best in education, I want our children to shine beyond imagination in every endeavor."
There was the formal commissioning of the Utility Hall and a sight inspection of the facility in which the governor expressed great delight at the hard work and determination of the Basic Education Board to be the best in the state.