Bayelsa Landslide: Govt. Calls Seeks Federal Intervention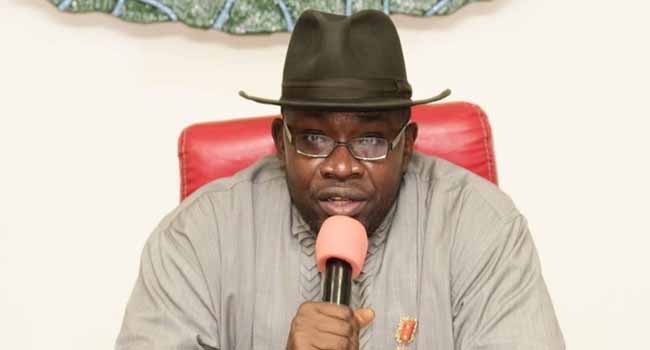 The Bayelsa State government on Wednesday made a passionate appeal to the Federal Ministry of Environment, to join its efforts in combating coastal erosion.
It is also asking agencies and other well-meaning organisations to support its efforts in addressing environmental disasters ravaging the state.
The Deputy Governor, Rear Admiral Gboribiogha Jonah (Rtd), made the appeal, shortly after inspecting a landslide site at Okoloba Community in the Kolokuma/Opokuma Local Government Area of the state.
Lamenting the loss of houses and other valuable property to the disaster, Rear Admiral Jonah urged the Federal Government to participate more effectively in the protection of the Bayelsa environment, which he noted, had suffered serious degradation owing to erosion and oil exploration activities.
According to the Deputy Governor, several communities in the state, including Koluama, which had been washed away by ocean surge and coastal erosion are now in their new settlements.
In his words: "There are lots of erosion sites in Bayelsa State. This is just one of them. We have been reporting about how the ocean surge has been washing off our communities including Koluama.
"There is need for the Federal Ministry of Environment to look into Bayelsa case more seriously now with this wake up call that we have got today. We shall inform the Federal Government on the need for them to participate more effectively in the protection of our environment".
He sympathised with the victims, assuring them that the government would do everything within its reach to provide them with some temporary relief, while proffering long-standing solutions to the problem.
Rear admiral Jonah, however, cautioned people of the state to be more safety conscious and take proactive measures by avoiding development of houses and other facilities in areas that were prone to natural disasters.
On the issue of providing shoreline protection for the community, the Deputy Governor said: "I understand there is a record that, the government had planned to provide shore protection here. We will look at that and see where the plan stalled and put pressure as much as we can to see that that project comes back to light".
Giving eyewitness accounts, some of the victims, who are indigenes of Okoloba community, Mr Titus Yeigbagha and Mr Imomoemi Officer, said the incident occurred thrice at about 8:00 a.m., 1:00 p.m. and 6:00 p.m. respectively on Monday this week.
Mr Yeigbagha, who lamented that property worth several millions of Naira including six houses were wiped away by the slide, called on the government to come to the aid of the victims and the Okoloba community by providing shoreline protection for the area.
Also speaking, the Governor's Special Representative in Kolokuma/Opokuma local government area, Mr Iselema Gbaranbiri, recounted a similar incident that occurred in the community in 2008, 2013 and 2015 and appealed for the urgent attention of the government.