ECOWAS Troops To Remain In Gambia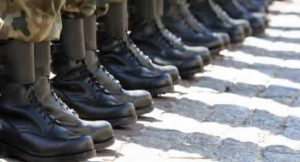 The President of the ECOWAS commission, Marcel Alain De Souza says ECOWAS troops deployed for mission in The Gambia would remain in the country ahead of the arrival of the elected President Adama Barrow.
Briefing members of the diplomatic corps and commissioners from member countries, the President said that it has retained troops from Nigeria, Senegal and Ghana to secure the city for the next six days ahead of President Adama Barrow's return.
The ECOWAS president appealed for financial support from international partners to conclude its mission successfully in The Gambia.
Responding to the allegation that the former president, Mr Yahaya Jameh took away 11.4 million dollar from the country's treasury, ECOWAS promised to encourage and support any form of investigation.
ECOWAS says while it lends support to the present government in any investigative move on the former President Yahya Jammeh, it has not validated the joint declaration by the EU and AU to grant him presidential amnesty.