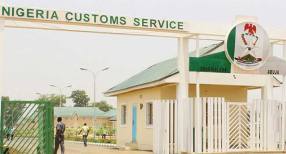 There was pandemonium in Abeokuta, the Ogun State capital, as operatives of the Nigeria Customs Service (NCS) allegedly shot dead a commercial driver while pursuing suspected smugglers.
The Customs officers were said to have killed Saubana Onila, a father of four, at Sowo village, along the Kobape-Siun-Sagamu expressway when he was conveying bags of rice to some customers in Sagamu.
As a result of this development, scores of protesters stormed the state headquarters of the NCS along Quarry Road in Abeokuta, threatening to dump the remains of the late transporter within the premises.
The Public Relations Officer of the Ogun Area Command, Usman Abubakar, however denied that the claims that the Customs killed anybody in the operation.
Abubakar maintained that the importation of rice through the land border had been banned, urging members of the public to support the agency in the fight against smuggling.
He told journalists that investigation into the incident was ongoing.
"The information at my disposal is that one of our patrol teams went on routine patrol this morning along Kobape-Sagamu Interchange. Based on credible information to them that some smugglers were coming through that route, they waylaid the smugglers.
"On sighting Customs vehicle, the occupants of those vehicles now started on top speed. In the course of the operation, one of the vehicles fell into a ditch. The occupants of that vehicle left and ran away. Our men now brought the vehicle down to Abeokuta station. So, that is the information I have.
"There was no shootout with anybody. Our men have no cause to shoot anybody. They are well trained and they operate according to international best practices.
"When they pursued those smugglers, there was a rat race between the drivers of those vehicles. Immediately the first one fell into a ditch, our men picked the vehicle and left others. So there was no shootout between our men and anybody.
"The police have been invited, we are on top of the situation. The matter is under investigation by the Customs and the police. So, after a thorough investigation, we will now give you full details of what happened."
It was gathered that Saubana, who was formerly the Chairman of National Union of Road Transport Workers (NURTW), Grammar School Unit, Abeokuta, had conveyed some bags of rice from the popular Kuto park in the state capital enroute Sagamu.
An eyewitness, Sola Josiah, on the other hand, claimed that the Customs men shot at the late driver's Mazda 626 car which made him to lose control, forcing the vehicle to somersault several times.
He alleged that the Customs men further shot the driver in cold blood and escaped from the scene.
Also according to him, four other people who sustained injuries in the incident, had been taken to a hospital for medical attention.
The state Commissioner of Police, Ahmed Iliyasu, however led a team of senior officers to the area to restore normalcy.