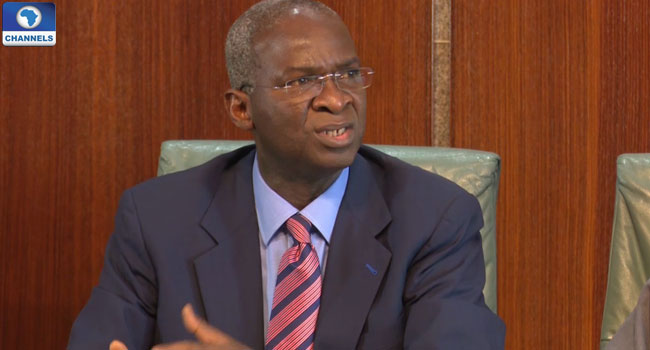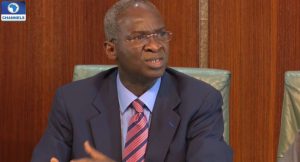 The Federal Government says it is working out a plan to pay off costs incurred by the Borno state government in fixing federal projects.
The Minister for Power, Works and Housing, Babatunde Fashola stated this in a meeting with Governor Kashim Shettima of Borno state.
Fashola has been touring the northeast, inspecting federal roads and projects across the zone.
The Minister says the contractors of the Damaturu-Maiduguri highway are back to site and the Works Ministry will liaise with that of Defence to give security support to the contractors, based on their previous experience so they can quickly complete that section.
"I believe that you have intervened in some of our roads and we thank you very much for it and also some of the public assets that have been damaged as a result of the insurgency.
The Federal Government is working to deliver a comprehensive plan that will include a bond to pay off all those liabilities.
It's part of the President's presentation during the budget presentation as a matter of principle all of us are the actors; finance, debt management office, budget and I believe parliament has some understandable consensus, so we are verifying those numbers."
Governor Kashim Shettima said the Borno state government has to embark on some of the Federal projects because of the situation the state has found itself in.
Gov Shettima however maked an appeal to the Federal Government to consider constructing the 120km Biu-Gombe road which he says is in a bad shape.
"One of the most important roads in the whole of Nigeria is the Maiduguri-Gamboru Ngala road; the distance of about 52km between Dikwa and Ngala is off limit during the rainy season.
The cars cannot pass through the main road because it is clay and the cars get stuck, because of our recent history we have had instances of vehicles stepping on landmines.
"So we will appreciate if you can fastrack that particular end of the road between Dikwa. I think a contract has been awarded, all we need is for your support to push it forward."
"The state government is currently working on Mbalala-Damboa-Chibok road. It's a Federal road but we are compelled to act on that road because it links to Adamawa and the southern part of Borno to Maiduguri.
"It is also a very important link road and because of our recent past we need to give the people of Chibok a sense of belonging, a sense of commonality." Kashim stated.