INEC Starts Continuous Voter Registration Nationwide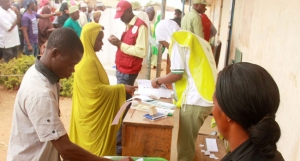 The Independent National Electoral Commission has commenced the continuous voter registration exercise across the country.
The Chairman of the commission, Prof. Yakubu Mahmud, said at a ceremony to mark the commencement of the exercise in Karu, Abuja that the exercise would afford eligible voters yet to register to do so before the 2019 general election.
He promised that the exercise will be taken to the ward level to allow for wider coverage.
INEC had on Tuesday said the continuous voter registration would run till few months to the 2019 general election.
The elections slated for 2019 will see voters elect their candidates for the presidential, states, legislative and council elections.
All those who were unable to vote in the last exercise and are now above eighteen years are expected to participate but not until they are registered to vote.
INEC is providing this opportunity through a nationwide voter exercise.
In the meantime, the electoral body is calling for cooperation from those participating in the registration and it is putting up a warning to prospective voters to avoid attempting to registers twice as the new electronic device procured for the ongoing exercise has a device that could disqualify anyone attempting to register twice.
READ MORE:
INEC Seeks Stakeholders' Support For CVR Exercise
Electoral Fraud: INEC Partners EFCC TO Prosecute Erring Staff
INEC Suspends 205 Staff Over Bribery Allegation