Polar Bear Predicts Germany Will Win Confederations Cup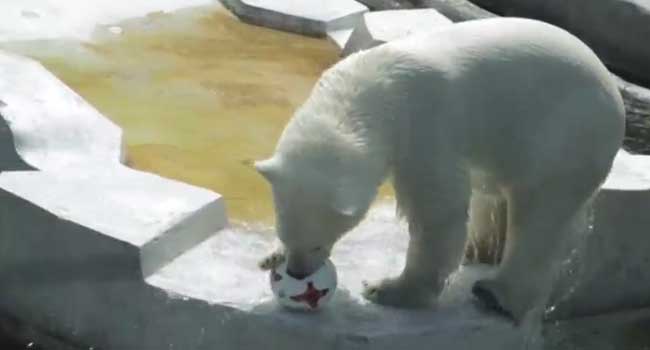 Nika the polar bear has predicted that Germany will win the Confederations Cup final against Chile after extra time.
The bear prediction put her reputation on the line at Moscow Zoo recently with a two-stage prediction.
She was inconclusive with the feeding bowls marked in national flags indicating a draw after regular time.
Her prediction moved on to extra time and the more precise balls-in-the-pool system.
She pursued and grasped Germany's ball in her jaws in the plunge pool before triumphantly climbing out of the water to proclaim the result.
Nika, a rescue polar bear who came to the zoo from Chukotka on the far eastern coast of Russia, joins the late and lamented Paul the Octopus in predicting sporting outcomes.
She successfully predicted Germany to beat Cameroon, and Mexico to beat Russia in the late group stages but her keepers draw a veil over her recent prediction of Portugal and Mexico to dispute the tournament final.