Operation Python Dance II: Army Insists Troops Will Not Be Withdrawn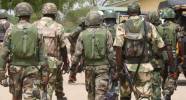 The Nigerian Army has insisted that it is not withdrawing troops deployed to the South-East for Operation Python Dance II.
A statement from the Army authorities asked members of the public to disregard what it describes as mere rumours.
The Army Spokesman, Brigadier General Sani Usman in a statement reacted to the announcement by the Abia State Governor, Okezie Ikpeazu that troops will gradually be withdrawn from the streets of Abia State.
The governor made the announcement on Thursday during a media briefing on the security situation in the state.
He said the security situation in the state in the past few days has become of great concern to both the government and the citizenry.
Governor Ikpeazu condemned the reported attacks on police stations and military posts in Aba and Umuahia, warning that the state government would no longer tolerate such incident.
He also asked members of the Indigenous People of Biafra (IPOB) to desist from spreading what he called "false rumors" capable of throwing Abia State into disorder.
General Usman said, "For the avoidance of doubt, the Abia State governor in his speech stated that 'there will be a gradual withdrawal of soldiers on the streets of Aba and Umuahia from tomorrow'.
"This should not be misconstrued as withdrawing of troops earmarked for exercise Egwu Eke II".
He emphasized that the exercise will commence today (Friday) as scheduled, and commanders have been instructed to ensure that all hands are on deck to ensure that the exercise is carried to its logical conclusion.
While asking members of the public in the affected areas to go about their lawful business, the Army spokesman warns that no individual or group will be allowed to jeopardise the conduct of the field training exercise.
He added that troops have been instructed to conduct themselves in a professional manner, and any act of indiscipline by military personnel will be decisively dealt with.