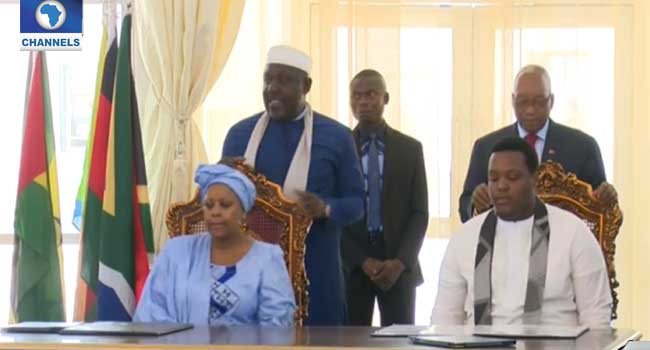 The president of South Africa Jacob Zuma Foundation has signed a Memorandum of Understanding (MoU) with the Rochas Foundation to jointly work on giving free education to indigent children in Africa.
The Imo state Governor Rochas Okorocha during the event said that the best gift and legacy that can be given to any child is free, quality and quantitative education.
Addressing the children, Okorochas said the purpose of the visit of the South African president to Nigeria is not for politics but for the children.
"President Zuma is not here in Nigeria for any social interaction or any political reasons, he is in Nigeria for Humanitarian reasons." he said.
READ ALSO: South African President, Jacob Zuma, Visits Imo
Okorocha said the purpose of the MoU signed with Jacob Zuma Foundation came as a result of his dream to touch lives and provide free education to less-privileged children.
"17 years ago, this dream came to me to touch the lives of the less-privileged children. For reasons of my background, I almost could not go to school due to poverty. Then I asked God to bless me so that I may bless others."
He added that he shares many things in common with the President of South Africa who did not have a formal education due to the poor background.
"I read a bit about your history and it looked like I share things in common with you growing up and the challenges you had as a child who was not privileged to go to a formal school or to see the four walls of a classroom but rather had to study in prison. I was not imprisoned but I was a prison of poverty," Okorocha said.