Donald Sutherland, Varda Honored At Governors Awards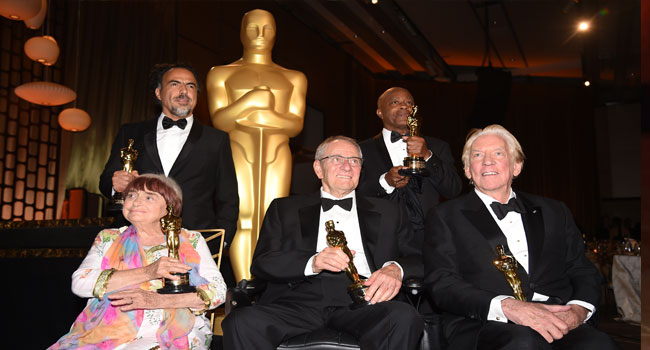 The Academy of Motion Picture Arts and Sciences handed out honorary Oscars in Los Angeles on Saturday at the 9th annual Governors Awards.
This year's recipients included actor Donald Sutherland, film writer and director Charles Burnett, cinematographer Owen Roizman, and filmmaker and artist Agnes Varda.
"I don't deserve this, but I have arthritis and I don't deserve that either," said Sutherland.
Among the highlights of the night was the moment when Varda, after accepting her award, took the hands of presenter Angelina Jolie and danced with her on stage.
Alejandro Gonzalez Inarritu was also honored. The Oscar-winning director received the 'Special Award Oscar' for his virtual reality film "Carne y Arena," which takes viewers on an attempt to cross the U.S.-Mexico border.
"Today, right here, millions of people seeking refuge are virtually present although physically invisible. I dedicate and receive this beautiful recognition on behalf of all the immigrants from Mexico, Central America, Asia, Africa and all corners of the world whose reality has been ignored and held hostage by ideologies and different issues denying them the possibility of being understood and loved," said Inarritu.
Only 17 of the special awards have been given out previously – the last was in 1996 for the first fully computer-generated movie, "Toy Story."
Reuters