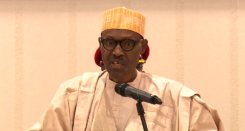 President Muhammadu Buhari on Wednesday said prisoners across the country are doomed without getting continuous training to help improve their lives.
The President said this at a ceremony in Kurmawa Central Prison, Kano, where 500 inmates were either pardoned or set free.
"If we have people of 18 and 19 years in the prison, and there is no continuous training, then their lives will be completely destroyed.
"We will invest more in education and vocational training," he said in a statement issued by his Senior Special Assistant on Media and Publicity, Mr Garba Shehu.
President Buhari reaffirmed that prison reforms and decongestion would continue to receive prompt attention and be pursued with greater vigour by his administration.
He, however, lamented that some of the freed inmates were young and asked prison authorities to make every effort to make better citizens of prisoners.
He also emphasised the need for prisoners to receive proper care, support and rehabilitation to make them better citizens after serving their prisons terms.
"I am pleased with this visit and I have learnt a bit more about the conditions of the prisons and inmates. This building in front of us was built since 1910.
"Rehabilitation of prisoners and training of inmates is very important to us and we would continue to invest more on this. I asked one of the inmates (released) how old he was and he told me he is only 19 years old," he said.
The 500 inmates granted pardon, including men and women, were drawn from various prisons in Kano State, including Kurmawa prisons which has 1,398 inmates as opposed to 750, the established capacity.
The President, who arrived Kano to a tumultuous welcome by the government and people of the state at the start of a two-day state visit, had earlier paid homage to the Emir of Kano, Muhammadu Sanusi II.
At the Emir's place, he recounted his fond memories of Kano, as a symbol of peace, trade, commerce and industry in Nigeria.
He said: "If there is a problem here, the whole country has a problem. I remember the industry and employment people get in Kano.
"Before the problem in the North East, I remember the number of articulated vehicles that leave this city to Maiduguri and the Cameroons; and the number of vehicles that come in from Chad and Niger, providing millions of jobs to Nigerians.
"A lot of people in Nigeria didn't realise how much the instability in the North East have cost the people and the industry here."
To this end, President Buhari assured all Nigerians that the fight against Boko Haram terrorists would be sustained, in addition to the positive trends in the economy and the fight against corruption.
"The three things we said in our campaign on security, economy and fighting corruption; nobody will be able to successfully disabuse the minds of Nigerians on our clear intentions for our country and our people," he said.