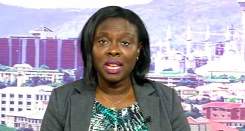 Amnesty International has warned the Nigerian government to be proactive in addressing the clashes between herdsmen and farmers to prevent the breakdown of law and order.
Director of Amnesty International, Osai Ojigho, gave the warning on Thursday during her appearance on Channels Television's Sunrise Daily.
READ ALSO: Herdsmen-Farmers Clashes Receiving 'Highest Level' Of Attention – FG
Ojigho is worried that the recent attacks by suspected herdsmen on some communities in Benue State and those recorded in other parts of the country might get out of hands if not tackled squarely.
"We are really reaching a boiling point of total anarchy," she said. "If you are to look at how things are developing, there's a lot of anger from different affected communities and including those who actually are bearing the brunt of losing family members at this time of the year."
"We've been following the incessant killings that have been happening in this sort of clashes throughout last year and, of course, at the beginning of the year we woke up to experience another wave at an escalating level that we never thought would get to this point," she added.
The Federal Government had said it was determined to holistically address the clashes which it said have become a major national concern.
"The government is very very concern about the herdsmen and farmers clashes and they are receiving attention at the highest level," the Minister of Information and Culture, Mr Lai Mohammed, had said on Wednesday.
The Inspector General of Police, Mr Ibrahim Idris, had also arrived in Benue on the directive of President Muhammadu Buhari, while the Nigerian Army had deployed special forces to protect vulnerable communities in Benue, Nasarawa and Taraba states.
Amnesty International, however, insisted that the governments at both federal and state levels are only doing little to address the issue.
The human rights group has asked them to ensure the perpetrators of the killings are arrested and made to face the wrath of the law.
"For us, what is really shocking is that we are yet to find a concrete response by government whether it's at federal level or state level in terms of ensuring that those that are perpetuating these killings are arrested, are prosecuted, and actually the course of justice is allowed to proceed without any sort of fear or favour," Ojigho said.