President Muhammadu Buhari at the African Union (AU) Peace and Security Council meeting in Addis Ababa on Saturday called for support from the global community to tackle insurgency in Nigeria.
While addressing African leaders at the 30th AU Summit, President Buhari condemned in strong terms terrorism and terrorist activities in Africa and around the world. He acknowledged the achievements recorded in the insurgency fight and called for more international support to fight Boko Haram.
READ ALSO: President Buhari To Discuss Peace, Security Matters At AU Summit
"We acknowledge that in spite of the achievements so far recorded, there are still some packets of terrorist activities within the Lake Chad Basin Region, particularly North-Eastern part of Nigeria.
"I call on International Community for more support in addressing the menace of Boko Haram and humanitarian crisis. We must also take resolute and coordinative initiatives by developing an African Union database of persons or groups and entities involved terrorist acts for use by law enforcement agents such as borders security officers, customs, military, and intelligence officers.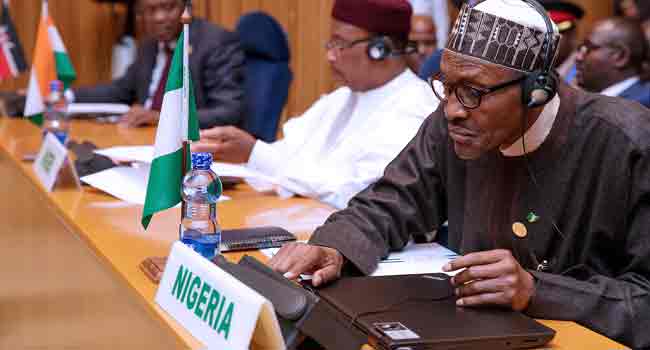 "Nigeria believes that the timely establishment of this tool at the continental level will be strategic in this fight," he said.
The President also explained that the Lake Chad has shrunk by over eight percent, impacting negatively on livelihoods of millions of people living in countries that have ties with the basin.
President Buhari left Abuja for Addis Ababa, Ethiopia on Friday, joining 14 other members of the Peace and Security Council (PSC), a standing organ of the AU for the prevention, management and resolution of conflicts.
A statement by the Senior Special Assistant to the President, Media and Publicity, Garba Shehu said the meeting will address issues regarding the "persistence of violent conflicts and crisis situations in some parts of the continent, upsurge of Internally Displaced Persons (IDPs) and refugees, climate change and its consequences as well as the issue of the derailment of national development programmes.