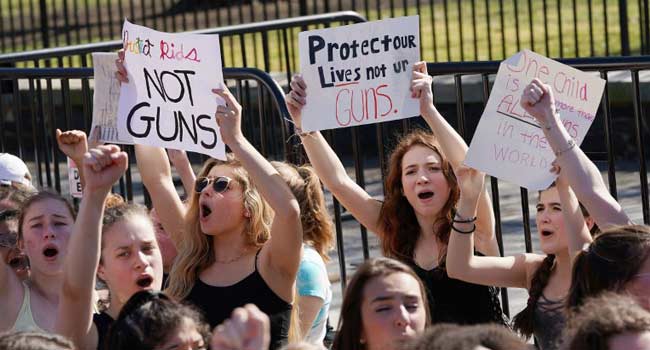 Florida college student Sarah Gibson renewed her National Rifle Association membership with a credit card swipe at a conservative conference Thursday, days after a deadly school shooting in her state triggered soul-searching about America's gun violence.
"I don't think guns are the problem, they're in fact the answer," the 20-year-old said. "When you have more security and you have more people carrying (firearms), that is deterrence in itself."
Gibson and thousands of fellow Republicans converged on the Conservative Political Action Conference near Washington, where they gather each year to celebrate their causes – and, in 2018, the populist movement that swept President Donald Trump into office one year ago.
Many speakers touted the administration's achievements including passing recent tax cuts, repealing job-killing regulations and appointing conservative judges.
"It's been a year of promises made and promises kept," Vice President Mike Pence told the CPAC crowd, as he offered tough words to North Korea and urged Republicans to gird for battle in hugely consequential congressional elections this November.
The ongoing and deepening investigation into Russian interference in the 2016 US election, and whether Trump's campaign colluded with Moscow, was barely a footnote in CPAC discussions.
But it was impossible to ignore the ever-present tragedy of rampaging gun violence, which has roiled American political discourse and put gun rights advocates and opponents under a hot spotlight.
While a moment of silence was held to honor the 17 people killed at a Florida high school, CPAC's attendees or speakers did not shy away from the issue.
Several actually went on the offensive.
NRA chief Wayne LaPierre hit back at what he called "the shameful politicization of tragedy," fighting a rearguard defense against street protests and mounting demands to tighten America's permissive gun laws.
In his first public comments since the Valentine's Day rampage, LaPierre reiterated long-standing accusations that gun control advocates were seeking to roll back constitutional protections.
The powerful gun lobby's spokeswoman, Dana Loesch, took it further, saying that "many in legacy media love mass shootings."
Hardline Voices
CPAC is a sprawling conservative hub promoting the ideals of liberty, economic prosperity and family values.
Its panelists speak glowingly of iconic president Ronald Reagan, posters announce that "big government sucks," and activists advocate for prayer in schools.
It also appeals to fringe or hardline voices who relish the opportunity to push their agenda on a broad stage.
A case in point: CPAC invited far-right former French MP Marion Marechal-Le Pen of the National Front to address the conference, raising concerns among some mainstream Republicans that CPAC was welcoming extremists.
"Just like you, we want our country back," the telegenic 28-year-old said, expressing solidarity with Trump's nationalist policies.
In the halls of CPAC, talk often turned to guns — and, importantly, how to respond to the latest slaughter at the hands of a rifle-wielding madman.
Kelli Ward, a hardline conservative US Senate candidate from Arizona looking to fill the seat of retiring Senator Jeff Flake in November, said the national mourning over the Florida tragedy knows no political boundaries.
"I'm a life member of the NRA, I'm a staunch supporter of the Second Amendment, and my heart is also broken for what happened," she told AFP.
But Ward also said attendees were focused on bread-and-butter conservative issues: restricting immigration, repealing the health care reforms known as Obamacare, and building up the military – "not because we want war, but because we want peace through strength."
At CPAC's exhibit hall, gun rights supporter Thomas White, 23, was helping a friend become an NRA member.
He predicted Trump would draw a warm reception Friday when he returns to CPAC, despite the president's announcement of support for legislation that would expand background checks for gun purchases and ban devices that convert legal semi-automatic rifles into machine guns.
"I feel like more people are opening up to Trump because he's not the (traditional) mold," said White, who grew up using guns in rural Maine.
Trump's words can be "offensive," White admits. "But he's coming from the heart to get issues solved," including gun safety.