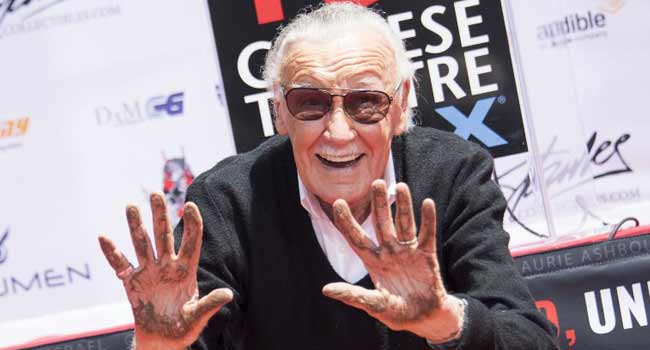 In a little more than 20 years, Marvel has gone from a company that declared bankruptcy (1996) as the comic book industry waned to a global empire generating billions of dollars a year.
The following is a look at the wide-ranging activities of the group, which for decades was led by Stan Lee, who died on Monday at age 95. It is now a wholly owned subsidiary of Disney, which bought it for $4 billion in 2009.
Films
The Marvel Cinematic Universe is a lucrative one: over the past decade, from "Iron Man" in 2008 through this year's "Ant-Man and the Wasp," 20 Marvel films have hit the big screen.
In total, the Marvel Studios productions have raked in a whopping $6.8 billion in North America alone, according to industry tracker Box Office Mojo.
According to AFP calculations based on figures from Box Office Mojo, Variety, The Hollywood Reporter and Forbes, the films have earned $17.5 billion, against $3.59 billion in production costs (excluding marketing).
Three new titles are in the works so far for 2019: "Captain Marvel," starring Oscar winner Brie Larson, in March; the latest chapter in the "Avengers" saga in May; and "Spider-Man: Far from Home" in July.
These totals do not include other films based on Marvel heroes that were produced under licensing deals ("Spider-Man" at Sony or the "X-Men" series and "Deadpool" at 20th Century Fox).
Television
For decades, Marvel has produced animated television series featuring its cast of characters, but changed tack in 2012 after a deal with streaming giant Netflix, shifting to live-action dramas.
"Daredevil," "Jessica Jones," "Luke Cage" and "Iron Fist" have all aired on the platform.
Marvel's current deal with Netflix reportedly stipulates that the streaming giant pays Disney $300 million a year for the right to propose exclusive TV series, as well as films.
The deal will come to an end in 2019 when Disney launches its own dedicated Marvel platform.
Another TV highlight is "Marvel's Agents of SHIELD," which has aired for five seasons on broadcast network ABC and will return next year.
Video games
Marvel has produced its own licensed video games for more than 35 years but in 2017, it reached a partnership deal with Japanese game-maker Square Enix.
"Spider-Man" — a game produced by Insomniac Games in concert with Sony Entertainment (that licensing deal again) — ranks second in sales for the Sony PlayStation 4 console in 2018, according to specialized website VGChartz, with 4.6 million copies sold. The going US price is $60.
Comic books
Though they are no longer the core of Marvel's business as they were in the early 1960s, the actual comic books remain an essential part of the group's DNA.
Each month, a plethora of new titles are published, exploring new adventures for iconic characters or creating universes with new heroes.
Toys and other licensed products
Marvel's heroes are featured on everything from action figures and board games to t-shirts, Halloween costumes, shoes and watches. Suitcases, backpacks and cell phone cases are also part of the empire.
Live shows
Since July 2014, Feld Entertainment has been licensed to produce "Marvel Universe Live!" — a live-action show featuring superheroes and villains played by actors, performing stunts in a scripted extravaganza.
More than 40 dates are set for the show's 2019 tour.
Amusement parks
In May 2017, Disney opened the stomach-churning "Guardians of the Galaxy – Mission: Breakout!" ride at its campus of amusement parks in Anaheim, California.
In March 2018, Marvel announced that other dedicated theme areas would be created at Disney World in Florida, Disneyland Paris, and Hong Kong Disneyland in the coming years.