Buhari Commissions Zaria Water Project
President Muhammadu Buhari has commissioned the second phase of the Zaria Water Supply and Expansion Project.
The President arrived in Kaduna State for the Commissioning earlier on Thursday.
He was received by Governor Nasir El Rufai and other top Government Officials at the Nigerian College of Aviation Technology Zaria.
READ ALSO: SAPZs Can Attract About $4bn Investment Into Nigeria – NGF
The first phase of the water project was commissioned on May 27, 2017, by the former national Chairman of the All Progressive Congress, Chief John Odigie-Oyegun.
The 150 million litres per day Zaria Water Treatment Plant which was solely financed by the Kaduna State Government is expected to end decades of water scarcity in Zaria and environs.
Before the commissioning proper, the President paid a visit to the Emir of Zazzau at his palace.
There Governor El-Rufai explained to the Emir the essence of the President's visit.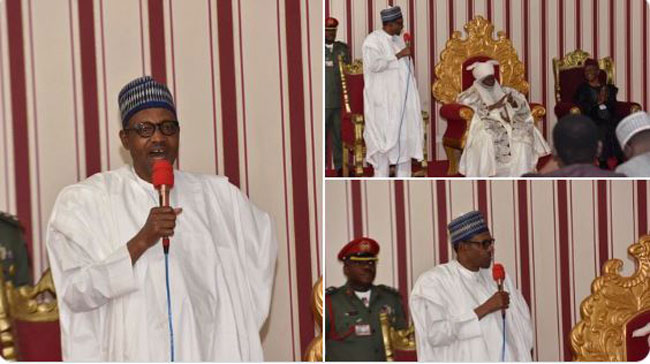 Balaraba Aliyu-Inuwa, the Commissioner of Public Works & Infrastructure, has welcomed President Buhari and other guests to the event pic.twitter.com/ymGhp7eso9

— Governor Kaduna (@GovKaduna) August 22, 2019
Governor Nasir El-Rufai in his address at the commissioning exercise, highlighted the importance of the projected and thanked all who were involved in making it become a reality.
It is an honour to welcome you all to the ancient city of Zaria for this historic commissioning of Phase II of the Zaria Water Supply Expansion Project. It is another milestone in reversing the shortage of water in Zaria and ending the pain endured by the residents of the city.

— Governor Kaduna (@GovKaduna) August 22, 2019
Mr. President, the people of Zaria are evidently delighted to see you. They have consistently provided you some of the biggest votes in your political area. It is only fitting that you are with them today to celebrate the restoration of public water supplies to Zaria…

— Governor Kaduna (@GovKaduna) August 22, 2019
…Anyone younger than 30 years who resides in Zaria has probably never seen water flow from the public grid. Thanks to the completion of the new water treatment plant in 2017 & the construction of transmission & distribution infrastructure, what was once a dream is now reality.

— Governor Kaduna (@GovKaduna) August 22, 2019
Zaria Water Project aims to improve access to sustainable potable water in Zaria metropolis and its environs. Water is critical to human welfare and its availability in reliable and safe quantities helps economic and commercial activities, apart from improving health outcomes

— Governor Kaduna (@GovKaduna) August 22, 2019
We had the pleasure of commissioning Phase 1 of the Zaria Water project on 27th May 2017. Chief John Odigie-Oyegun cut the tape on the new 150 million litres per day Zaria Water Treatment Plant, solely funded by the Kaduna State Government…

— Governor Kaduna (@GovKaduna) August 22, 2019
…When we took office in 2015, contractors working on the project were owed N3.6bn. We liquidated this debt in 2016, and removed the last obstacle to completion of the water treatment plant.

— Governor Kaduna (@GovKaduna) August 22, 2019
We have had the good fortune of committed partners. I thank the Islamic Development Bank (IsDB) and the African Development Bank (AfDB) for funding the transmission and distribution infrastructure of Zaria Water

— Governor Kaduna (@GovKaduna) August 22, 2019
Every partner deserves praise:
FG spent N11.8bn to build Galma Dam
KDSG spent N24.69bn on the 150MLD Water Treatment Plant.
AfDB contributed N30.95bn while IsDB provided N24.82bn for construction of water & sanitation infrastructure and rehab of facilities

— Governor Kaduna (@GovKaduna) August 22, 2019
Every partner deserves praise:
FG spent N11.8bn to build Galma Dam
KDSG spent N24.69bn on the 150MLD Water Treatment Plant.
AfDB contributed N30.95bn while IsDB provided N24.82bn for construction of water & sanitation infrastructure and rehab of facilities

— Governor Kaduna (@GovKaduna) August 22, 2019