US' Historic Inauguration Day In Pictures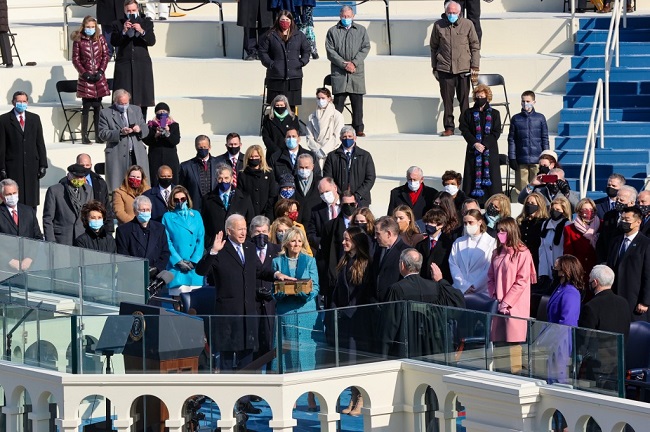 Joe Biden on Wednesday became the 46th president of the United States with a call to unity, vowing to bridge deep divides and defeat domestic extremism two weeks after a mob attack tried to undo his election victory.
On a frigid but sunny day at the very Capitol building that was assaulted on January 6, Biden swore the oath of office moments after Kamala Harris, who became America's first woman vice president, turning the page on Donald Trump's tumultuous four years.
"Democracy is precious, democracy is fragile and at this hour, my friends, democracy has prevailed," Biden said before a National Mall that was virtually empty due to the ultra-tight security and a raging Covid-19 pandemic that he vowed to confront immediately.
"We must end this uncivil war that pits red against blue, rural versus urban, conservative versus liberal. We can do this if we open our souls instead of hardening our hearts, if we show a little tolerance and humility and we're willing to stand in the other person's shoes."
"Together we shall write an American story of hope, not fear, of unity, not division, of light, not darkness. A story of decency and dignity, love and healings and goodness."
But Trump, who falsely said that he was cheated out of a second term and egged on his supporters before their rampage at the Capitol, broke 152 years of tradition by refusing to attend his successor's inauguration.
Biden appealed to Trump's supporters, pledging to listen to all sides after four years of deep polarization in which Trump belittled minority groups and tried to cast doubts on basic facts.
"I will be a president for all Americans."