NDA Attack, Worst Form Of Human Rights Violation – Ojukwu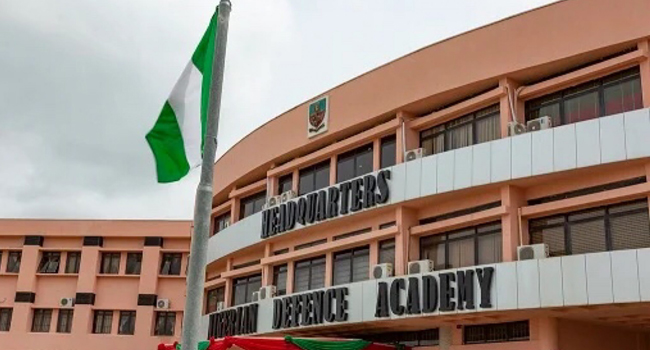 The Executive Secretary of the National Human Rights Commission (NHRC), Tony Ojukwu, has condemned in strong terms the attack on the Nigerian Defence Academy (NDA).
In a statement on Wednesday by the spokesperson for NHRC, Fatimah Mohammed, Ojukwu described the incident as an affront on Nigeria's security that was unacceptable.
According to him, the NDA is the pride of the country where people from other parts of the world come to train.
"The invasion of the institution with high international repute where very intelligent military officers are produced is most unfortunate, unexpected, and condemnable" the NHRC chief lamented.
READ ALSO: Nigeria's GDP Records 5% Growth For Second Quarter
He said the attack on the military institution was bad in itself, and worst of it all was the killing and abduction involved.
"This is the worst form of human rights violation of our time," said Ojukwu. "Military officers like other security personnel are entitled to carry out their duties in relative safety and security.
"They are fathers and mothers of their families who entitled go to work and come back alive."
He called on the military to leave no stone unturned in its efforts to rescue the abducted officer and fish out the abductors to face the wrath of the law.
By doing so, the NHRC chief believes this will discourage further attacks on other national critical assets and infrastructure.
He also commiserated with the families of the military men – Lieutenant Wulah and Flight Lieutenant Okoronkwo, saying they have paid the supreme price of serving their fatherland and their sacrifice would not go in vain.
Ojukwu, however, called on the government to put adequate measures in place to tighten and improve the security situation in Kaduna State and other parts of the country.
Kaduna state, he noted, is fast becoming the epicentre of banditry and kidnappings in recent times and these have implications on the protection of the rights of the people.
The NHRC chief recalled that students in their numbers had been abducted and attacked in schools at various levels in the state, adding that at the moment, children in primary and secondary schools have been ordered by the state government to stay at home.
"The few ones that are allowed to go and write exams in school are ordered to go in mufti with fear that they can be abducted if they adorn themselves in their uniforms; for how long will this continue?" he queried.
"Our children must be allowed to enjoy their rights to education in a secured environment. We must all rise up and support the government to put an end to this menace of insecurity."