Buhari Determined To Deliver Major Projects Before Leaving Office – Presidency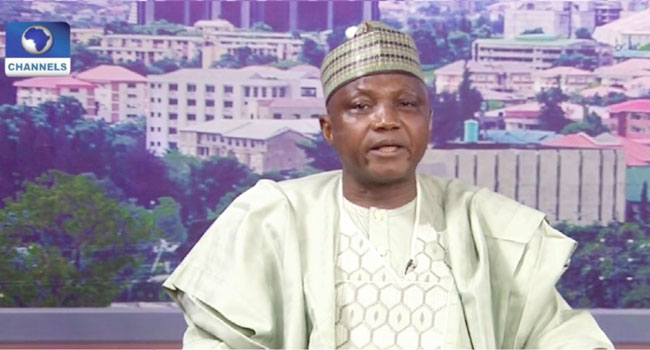 Presidential aide, Garba Shehu, has reiterated President Muhammadu Buhari's desire to finish major projects across the country before handing over power in 2023. 
He made the remark on Friday during an interview on Channels Television's breakfast show, Sunrise Daily, noting that that is the major preoccupation of the government.
"The president is determined to make the last push for major policies, infrastructure, and projects that he believes must be delivered before he leaves, " the presidential aide added.
READ ALSO: Chinese Loans: Anybody That Will Help Nigeria's Infrastructure Is Welcome – Buhari
Shehu listed some of the projects to include the second Niger Bridge; Lagos-Ibadan Expressway; East-West Road; Calabar- Lagos railway; Maiduguri-Port Harcourt railway and Ibadan-Port Harcourt rail line.
"All of these are matters of priority and he is seeking to commission them before he leaves," he said, reiterating that his principal is committed to leaving a lasting legacy and not on choosing his successor.
"He is not going to write the script for 2023; he is not a kingmaker; he is focused on his job," the spokesman maintained.
"The actors in the field are there competing and scrambling for offices. It is up to Nigerians to determine who will lead them. I think the president is determined to ride on the Abuja-Kaduna Road back home when he finishes in 2023."
Aside from infrastructure, he also re-echoed Buhari's earlier call to Nigerian youths to embrace agriculture even though he admitted the Federal Government alone cannot fund the sector.
According to him, to see growth in the sector, people have to look beyond the government who he said is more concerned about providing the enabling environment for agriculture to flourish.
"Now, as we speak, in Kano, we have an association of graduate farmers – People who have said, 'Okay, we have the certificates – BSc, MSc – let's go and do something different'. Nobody is regretting among those people," Buhari's spokesman explained.
"They are doing quite well. And I am aware that in a number of states, graduates have organised themselves and they are reaping the dividends of their own decisions."