An emotional Aryna Sabalenka battled back from a set down to beat Elena Rybakina and win the Australian Open on Saturday for her first Grand Slam title.
The hard-hitting Belarusian collapsed to the court in tears after winning 4-6, 6-3, 6-4 against the Wimbledon champion in a 2hr 28min arm-wrestle on Rod Laver Arena.
The 24-year-old Sabalenka wiped away tears before getting a warm hug from Moscow-born Rybakina, who played a full part in a thrilling match between two of the most powerful hitters in the women's game.
Sabalenka, the fifth seed, then ran to her player's box to celebrate with her team.
"Thank you, my team, the craziest team on the tour. We've been through a lot of I would say downs last year," Sabalenka said, addressing her team after receiving the trophy.
"Thank you so much for what you are doing for me. I love you guys."
She added: "I want to congratulate Elena for an incredible two weeks. You're such a great player and of course we are going to have many more battles, hopefully in finals of the Grand Slams."
It was a fitting finale to two weeks of drama at Melbourne Park, highlighted by brutal groundstrokes, precision serving and wonderful rallies from two players at the top of their game.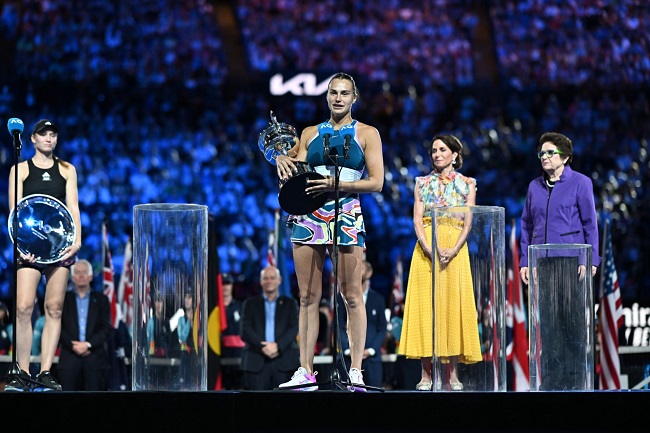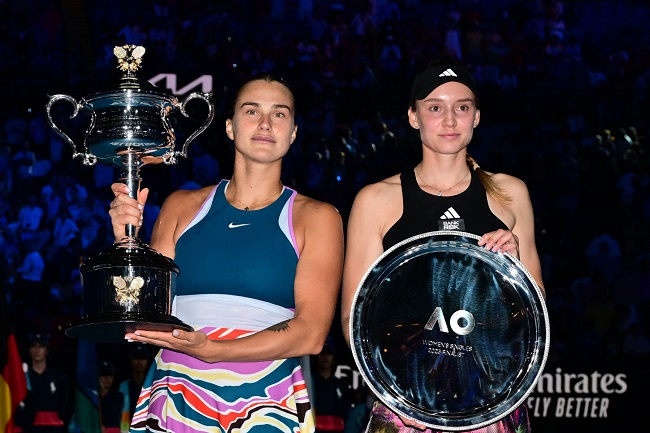 – Nerve-shredding –
Rybakina cruised through the first set in 34 minutes but Sabalenka scrapped her way back in a 57-minute second set to take it to a nervy decider.
It was then a case of which of the big servers would blink first in a toe-to-toe battle.
At 3-3 Rybakina — who represents Kazakhstan– could not find enough first serves and though she saved two break points, a third was too much and Sabalenka had the finish line in sight.
An ace took her to 5-3 and Rybakina held to force Sabalenka to test her nerves and serve for the championship.
She was up to the challenge but needed four nerve-shredding match points after a display where she hit an astonishing 51 winners and 17 aces to edge past the big-serving Rybakina.
Sabalenka will now rise to second in the world, equalling her career high.
Rybakina will have the consolation of breaking into the top 10 for the first time, after reaching her second Grand Slam final in seven months.
She was awarded no ranking points for her Wimbledon win because of the ban on Russian and Belarusian players there.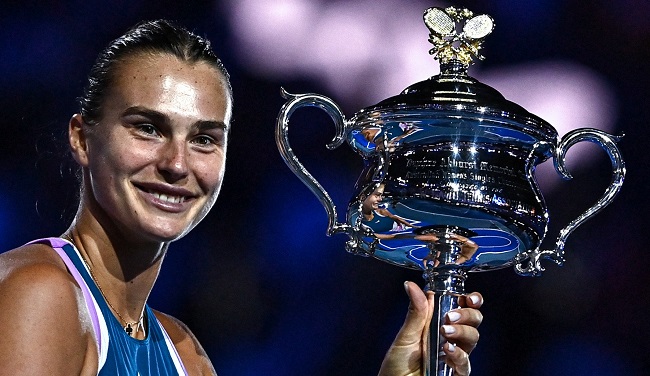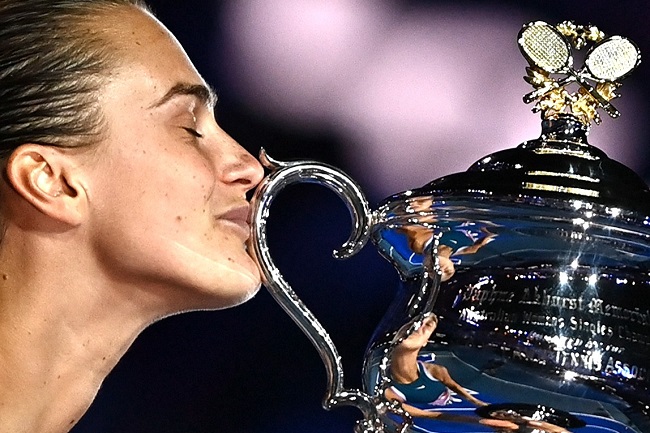 – New ground –
Both players broke new ground in Melbourne this year.
Rybakina's previous Australian Open best was a third-round appearance in 2020, while Sabalenka had exited in the fourth round in 2021 and 2022.
Sabalenka served first in the final and let out a nervous laugh as she immediately double-faulted.
It was the sort of start that might have induced a bout of nerves in the Sabalenka of 2022, when she dished up 428 double faults, 151 more than any other player on the women's tour.
But not this year. Her new-found confidence enabled her to respond immediately with an ace and roll through to hold.
Rybakina had served more aces than any other player, 45, in her run to the final and she rattled off three more in a row to level at 1-1.
Rybakina fought back from 0-40 to deuce in the next when a second Sabalenka double fault opened the door.
She stepped through when Sabalenka went wide and consolidated to lead 3-1, then served out with ease to take the first set
It was the first set that Sabalenka had dropped in 2023.
The second set started in similar fashion, Sabalenka holding but under pressure on her serve.
She showed guts at 1-1 to hold with two aces before forcing a break of her own with her heavy groundstrokes to lead 3-1.
Another double fault gave Rybakina an immediate break back point which Sabalenka saved with a power-packed backhand winner and a scream of "Come on!" before getting to 4-1.
Sabalenka, having visibly picked up the pace, took the set.
The third set was heart-thumpingly tight, both players creating chances only to see their opponent fight back, until Sabalenka finally secured her dream.