As a teenager, Shirley Kurata worked in the Aratani Theatre in the Little Tokyo section of Los Angeles. On Sunday, the venue will host an Oscars watch party for her film "Everything Everywhere All at Once" — and she could be one of the winners.
Kurata is up for her first Academy Award for best costume design for the mind-bending sci-fi fantasy, for which she dressed Michelle Yeoh, Ke Huy Quan, Stephanie Hsu and Jamie Lee Curtis.
"It feels like coming full circle," Kurata told AFP in an interview ahead of the Oscars gala.
"I'm so honored. I'm in the company of just very, very amazing and talented costume designers."
Kurata is competing against three past winners — Catherine Martin ("Elvis"), Ruth Carter ("Black Panther: Wakanda Forever") and Jenny Beavan ("Mrs Harris Goes to Paris") — and four-time nominee Mary Zophres ("Babylon").
Dressed in a vintage floral jacket and skirt, a turtleneck (her wardrobe staple, she says) and neon green jelly shoes with purple soles, Kurata rocks a retro style, complemented by distinctive round glasses.
On her pastel blue fingernails? The zany googly eyes seen throughout the film.
"Everything Everywhere," directed by Daniel Kwan and Daniel Scheinert, goes into Sunday's ceremony as a frontrunner with a leading 11 nominations including for best picture.
The movie tells the story of a Chinese American couple that runs a laundromat, is in trouble with the tax authorities and struggles to relate to their depressed lesbian daughter.
At the IRS office, Evelyn (Yeoh) and Waymond (Quan) are suddenly thrust into a battle spanning multiple universes — against a sassy all-powerful villain who happens to be one version of their child.
Kurata, whose parents also owned a laundromat, felt her collaboration with the Daniels, as the directors are known, was a "match made in heaven."
"I think they encouraged me to sort of just show my creative muscles," she recalled.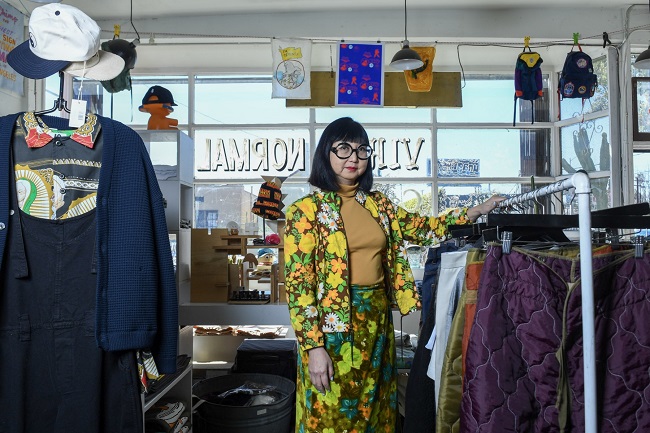 – Brainstorming with the Daniels –
Some of the costume ideas were set in the film's storyboarding, like the bejeweled Elvis-style white pantsuit worn by the evil Jobu Tupaki (Hsu) when she turns policemen into confetti, Kurata explains.
But the character's myriad costume changes were not scripted.
"We just sort of brainstormed like, okay, why don't we have like a golf look for her or like a K-Pop look and we just sort of worked together," she said.
Kurata didn't even sketch out the more than 100 looks she ultimately prepared for the film. There was no time.
"I only had a month and a half to prep this movie, which is very short," she said.
"The entire budget of my movie's wardrobe was probably the equivalent of one Marvel costume," she joked about competing with a well-funded blockbuster like "Wakanda Forever."
But her looks, spiced up with dramatic hair and makeup, popped off the big screen — and cropped up all over social media.
Especially popular were Jobu's K-Pop look featuring a Jeremy Scott teddy bear sweater, goddess Jobu in an intricately beaded white dress with a Victorian collar, and Chaos Jobu — featuring a bit of each costume.
"There were so many people dressing up" as the film's characters for Halloween, she said.
"I was like, okay, thank God, I succeeded."
– 'Unique, diverse story' –
Kurata describes herself as part of Generation X, without offering a specific age.
Born and raised in Los Angeles, she says she knew she wanted to be a designer from age 10 or 11, and learned to sew from her mother.
After high school, Kurata moved to Paris and trained for three years at the elite Studio Bercot.
When she returned to LA, she says there "wasn't really much of a fashion scene" so she targeted Hollywood, building her resume on low-budget films and TV sets, as well as by working as a stylist on music videos and commercials.
She ultimately headed back to the film scene because she enjoyed the "sense of family" that develops on set.
Kurata, who will start work on her next project in May, says she prefers to work on films directed by women and people of color, as they offer a "unique, diverse story about the world."
She divides her time between Hollywood work and Virgil Normal, the store she co-founded in Los Angeles with her designer husband Charlie Staunton.
– 'A great win' –
Kurata — who has worked with music stars like Billie Eilish and Pharrell Williams, himself the new head of menswear for Louis Vuitton — is no stranger to showbiz glamour.
But she says she is still a bit stunned by the huge box office and critical success of "Everything Everywhere All at Once."
Kurata, who is of Japanese descent, called the film "a great win for the Asian community."
"It's long overdue, but it's so great," she said.
Kurata jokes that she's "more prepared" for Sunday, after not writing a speech for the Costume Designers Guild awards, where she bested Carter for the prize for excellence in design for a sci-fi or fantasy film.
"I'm so happy that I'm just getting nominated. I feel like I've already won."