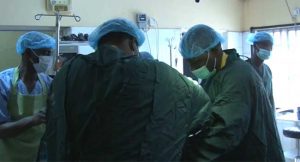 A fake doctor who allegedly performed an illegal abortion of a six month pregnancy in Akute, Ifo Local Government Area of Ogun State has been arrested.
The crime was uncovered by a supervisory team of the State Ministry of Health in collaboration with the Association of Nigeria Nurses and Midwives (NANNM) while monitoring the level of compliance of the re-validation and registration exercise of health facilities in the State.
Chairman of NANNM, Roseline Solarin who disclosed this during an interview added that the fake doctor was also discovered to have organised a graduation ceremony for a fake nurse.
She, however reiterated the readiness of the professional body to lead the fight against quackery in the health sector.
"This particular suspect conducted a graduation ceremony for a fake nurse. Let me assure that the NANNM is now fully ready to cooperate with the State Government in the fight against quackery in the State health sector.
Any nurses or doctor found practicing without the prerequisite certificate would be arrested and prosecuted" Solarin said.
While commending the state government for taking bold steps in fighting quackery in the health sector, Solarin lamented that fake doctors and nurses are gradually taking over the profession but  warned that anyone caught practicing without the prerequisite certificate would be prosecuted and shown the way out of the system.
Reacting to the development, the
declared that government was ready to combat quackery in the health sector to a standstill, expressing regret that a large number of unsuspecting members of the public had been victims of this practice
Ipaye declared that the state would not be a comfort zone for quack health personnel, warning that any health facility caught operating with fake documents or not having the new approved signboards by the state government would be dealt with in accordance with the laws of the state.
"I want to urge members of the public to always patronize approved health facilities that have signboards with the new colour and coded number, which can offer them better and qualitative health care services.
"The Governor has mandated officials of the Ministry to arrest and prosecute anyone found operating facilities with fake documents" Ipaye said.
To send the right signal in this direction, over 60 illegal health facilities were shut down in different parts of the state during similar monitoring exercises in 2016.