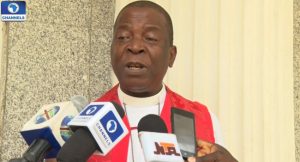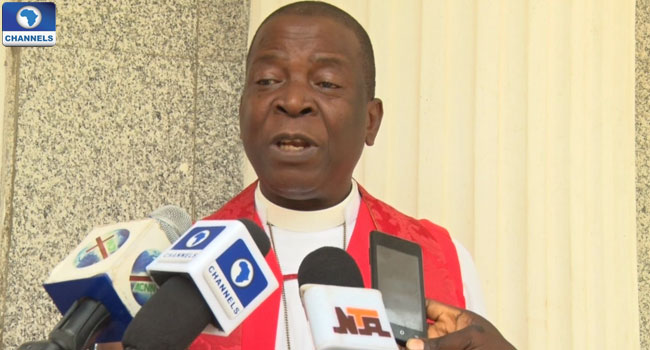 The Anglican Primate, Most Reverend Nicholas Okoh, is asking the Nigerian government and the Nigerian Army to intensify efforts in protecting Nigerians living in the volatile north east.
Most Reverend Okoh believes that such intensity in checking the activities of the Boko Haram in the region would quench renewed attacks by the terrorist group.
His request is coming amidst resurging suicide attacks in some communities in the northeast area after heightened counter-terrorism operations had decimated the sect that is pushing for the establishment of an Islamic State and an end to Western education in the region.
Addressing reporters after a Diocesan Confirmation Service in Abuja, Most Reverend Okoh stressed that the military must not relent in fighting insurgency.
He says it is obvious that Boko Haram terrorists have no plans of backing down and are intent on unleashing terror in the country.
"When this thing started, I did say that war against insurgency is not a 100 mitres dash. It is a marathon race. So, the country must be prepared. That is why when they put a date and say December (for end to activities of Boko Haram), I was not very enthusiastic because from experience, we know that terrorists are not people that will submit so easily.
"That will give you an indication that they are not ready to submit. If they are ready to submit, why did they not release the girls at once.
"They want to use the girls to continue to negotiate either for money or for their own people," he said.
The Anglican Primate further expressed fears that displaced persons that had returned to their communities in the northeast were at risk of being attacked without adequate military protection.
"The people who are really in danger now are those displaced persons who have returned to their villages.
"We cannot be sure that Boko Haram will not emerge from here and there and attack them again.
"So, the government must continue to emphasise that there should be no relenting.
"The military must continue to do their very best to protect the people who have returned to the villages because Boko Haram is a battle that we don't know when it will end," he added.

With the fresh waves of suicide attacks by Boko Haram in communities in the northeast, analysts say Boko Haram is staging a fight-back after taking advantage of the rainy season to recoup.